The University of Texas Arlington researchers have created a smart cushion that changes the air pressure on a wheelchair seat to prevent the negative effects of sitting in a wheelchair for long periods. The cushion redistributes the user's body weight to prevent ulcers and sores.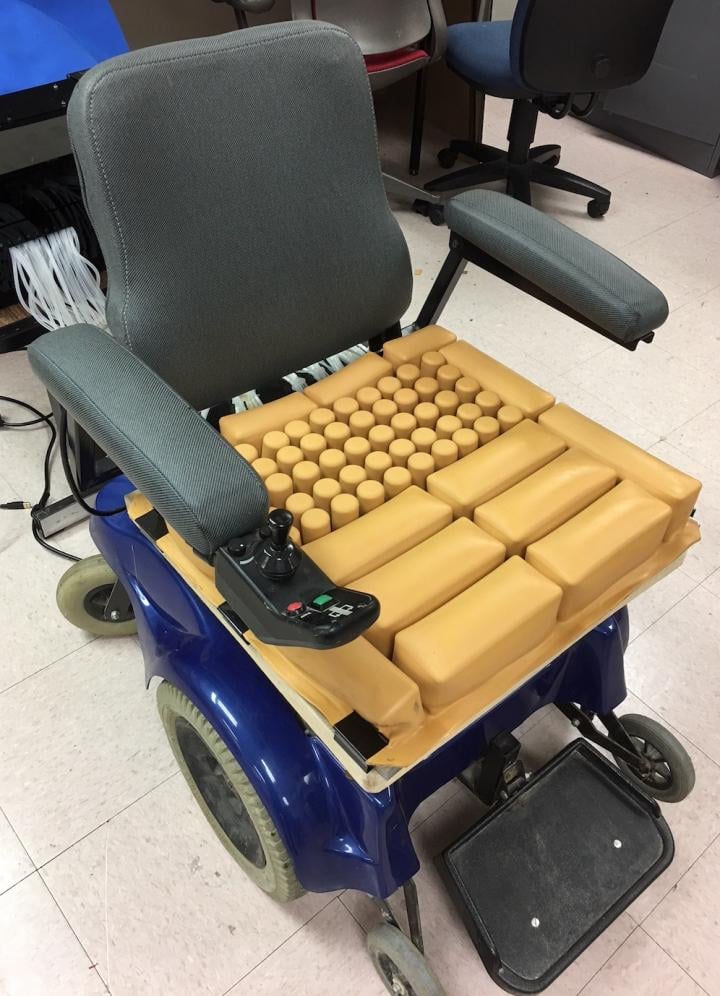 This is the smart cushion. (Source: University of Texas Arlington)
The researchers say that this technology could one day be used in prosthetics to adapt shape and accommodate body volume changes through the day. A prosthetic that doesn't fit or adapt well to the person's body can lead to skin damage, sores and overall pain.
"Pressure ulcers caused by long periods of sitting without relieving pressure at boney regions such as the tailbone, frequently occur in people who spend a significant amount of time on wheelchairs. In the case of prosthesis users, poor fitting of the prosthesis leads to pressure injuries for amputees that can severely affect their daily life," said Muthu Wijesundara, co-inventor of the technology and chief research scientist at UTA's Research Institute or UTARI. "Our technology improves on existing solutions by including real-time pressure monitoring and automated pressure modulation capabilities to help combat the formation of pressure ulcers or sores."
While the user is sitting on the smart cushion, the network of sensors creates a pressure map. The automated pressure modulation uses the data gathered through the pressure map to reconfigure and adjust the seat for ultimate comfort and lower the risk of health problems. The seat automatically offloads areas of weight to avoid sores and periodically changes the pressure profile on the seat so pressure build-up is limited.
The team tested this technology with healthy volunteers who all had different weights and asked them to sit at a variety of angles and positions to test the pressure sensors. The seat cushion measured pressure automatically and immediately after someone sat on it. The cushion performed effective pressure redistribution in order to properly offload pressure.
"UTA's Research Institute has the mission of taking inventions out of the lab and making them useful to society," McCabe said. "This patented technology will do precisely that, helping patients avoid added trauma and reducing the burden of costs associated with ulcers and sores on the healthcare system. A real win-win for all sides."
The smart cushion was presented at the ASME 2018 International Design Engineering Technical Conferences & Computers and Information in Engineering Conference in August of this year.