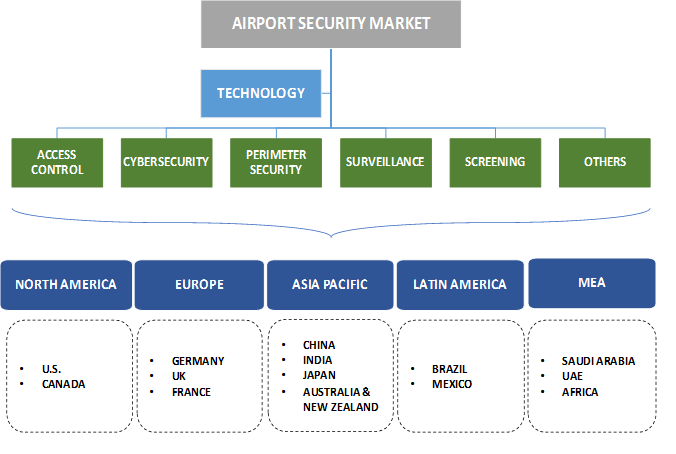 Airport security industry background. Source: Global Market Insights, Inc.
Airport Security Market size is set to exceed $16 billion by 2024, according to a new research report by Global Market Insights Inc.
High penetration of these solutions is due to the demand for advanced security systems such as biometrics in identity and access monitoring, contactless entryway checkpoints, X-ray scanners and thermal cameras. Conventional security measures employ invasive procedures and protocols such as physical checks and body pat-downs which are highly uncomfortable. To boost passenger convenience, airport security market vendors are investing in R&D activities for the development of technologies such as X-ray scanners. In high-risk settings, preventive measures are required over reactive technologies. In such cases, it is essential to track and forecast security threats in contrast to taking measures to fix the issues after their occurrence.
The rising penetration of smart technologies and the internet of things in airports is fueling the demand for the airport security market. These include technologies such as remote check-ins, sensor equipment, e-gates, and RFID baggage reconciliation systems. A major portion of the data is collected in real-time and stored in large central databases. The presence of security issues in such cases can leave the data vulnerable to attacks from internal and external parties. Wireless tracking technologies, for instance, can allow a hacker to utilize triangular algorithms or received signal strength indication (RSSI) information to track the location of the Wi-Fi end-point user and unearth historical data, such as the route taken by the users, purchasing data and more.
A major factor contributing to the high growth of the airport security market is the increase in the traveler populations, primarily in the Middle East and Asia Pacific. Large-scale globalization and rapid industrialization are driving the movement of goods and people across country borders. Owing to this, airports in urban locations are increasingly experiencing high passenger traffic causing governments of varying economies to undertake massive projects for the upgrade of existing technologies and the development of new airports. In the aftermath of the 9/11 attacks, the U.S. government has increased the stringency of security procedures in and around the aircraft and passenger areas.
The airport surveillance system market is anticipated to exhibit substantial growth during the forecast time period. These systems are required to be functional at all times and sense multiple movements occurring at varying ranges. Additionally, these systems are supposed to function effectively in intense environmental conditions such as fog and storms and capture images in reduced visibility settings. The advent of 4K cameras and video units has revolutionized the airport security market owing to their sharper and improved image quality and their ability to provide coverage for a wider area.
The North American airport security market is anticipated to dominate in terms of revenue in the following years. This is mainly attributed to the high emphasis of the U.S government on security measures such as surveillance cameras and cybersecurity solutions. The Transportation Security Administration (TSA) has launched the testing of 3D checkpoint scanning technology at the Phoenix Sky Harbor and the Logan International Airport. The computed tomography screening equipment improves the threat detection capabilities by providing a more thorough 3D image of the screened cargo.
Some of the players operating in the global airport security market include Thales Group, American Science and Engineering Inc., Westminster Group PLC, Axis Communications, Scanna MSC Ltd., Bosch Security Systems, RedXDefense LLC, Fisher Research Laboratory, Hitachi Ltd, OSI Systems Inc. and MilliVision Technologies. Companies are increasingly entering into long-term partnerships with airports for the testing and deployment of their technologies. For instance, Izmir International Airport has entered into an agreement with Tyco Security Products for the provision of unified security solutions such as access control, location monitoring and intrusion tracking.
Airport security market research report includes in-depth coverage of the industry with estimates and forecast in terms of revenue in from 2013 to 2024, for the following segments:
Access control
Cybersecurity
Perimeter security
Screening
Surveillance
Others