Virtual reality (VR) technology combines with real-time molecular simulations in a new system that allows users to reach out and 'touch' molecules as they move, manipulating them and changing their shape to test how they interact. Using cloud computing, several people can interact with the molecules in the same virtual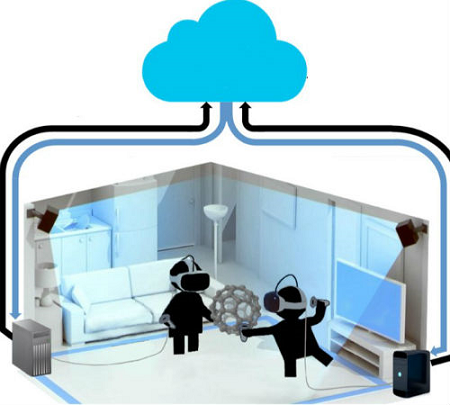 Two users within the VR framework depicted passing a simulated fullerene molecule back and forth. Each user's position is determined using a real-time optical tracking system composed of synchronized infrared light sources. Source: University of Bristolspace at the same time.
U.K. researchers designed a series of molecular tasks for participants to test on a traditional mouse and keyboard, touchscreens and virtual reality. This included threading a small molecule through a nanotube, changing the screw-sense of a small organic helix and tying a small string-like protein into a simple knot. VR was demonstrated to offer a significant advantage for complex 3D tasks, and participants were ten times more likely to succeed in difficult tasks such as knot tying.
The method should find application in the design and development of drugs, and in transforming the teaching of chemical structures and dynamics. The approach underscores the potential for VR in seeing and manipulating complex 3D structures, with applications across research, industry and education.
Download the software to replicate the tasks outlined by the researchers.
Scientists from University of Bristol, Pervasive Media Studio, University of the West of England, Interactive Scientific and Oracle Cloud Development Centre contributed to this research, which is published in Science Advances.