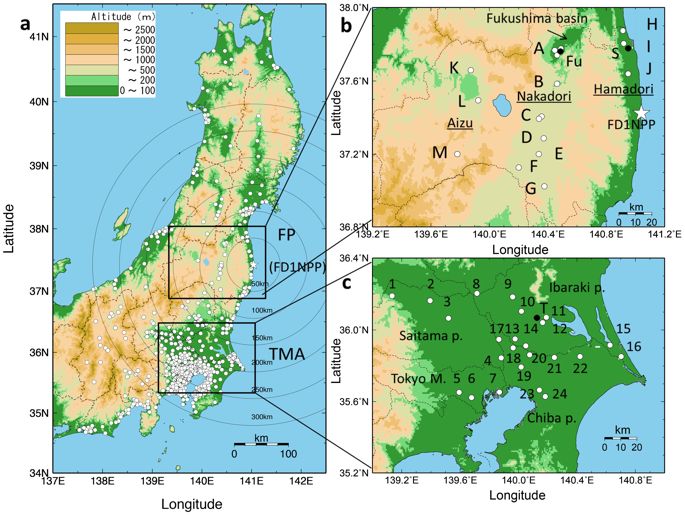 A map of the SPM monitoring sites. Source: University of Tokyo Institute of Industrial Science
Researchers from the University of Tokyo Institute of Industrial Science have developed an artificial intelligence (AI) machine learning-based system that predicts where radioactive waste will fall 30 hours in advance.
According to the World Nuclear Association, the Fukushima Daiichi Nuclear Power Plant leak in 2011 caused 100,000 people to be evacuated from their homes. Due to this last minute evacuation, many of those people developed PTSD, anxiety and depression, according to the World Health Association (WHO). There have been no reported deaths or diseases caused by this particular nuclear waste leak. In past nuclear waste leaks, many survivors develop cancer, especially thyroid cancer. Getting citizens away from nuclear waste is the highest priority for emergency workers.
Researchers from the University of Tokyo wanted to develop a new AI algorithm that can help the teams get people out of the areas before people could be exposed to the leaks.
During a radioactive disaster, it is incredibly important for people to be evacuated as quickly as possible. Until now, it has been incredibly difficult to predict where radioactive waste is going to land, making it almost impossible to prevent people from being exposed to the waste in some form. Exposure to radioactive waste, according to the United States Nuclear Regulatory Commission, can cause short-term health effects and even death. Keeping people safe is the ultimate priority.
The University of Tokyo team developed a computer program to help predict where radioactive material is going land. The algorithm uses weather predictions and expected wind patterns to figure out how the weather will move the waste. Once the algorithm predicts where the waste will be, emergency teams can evacuate people in and surround those areas. The system also allows for accurate evacuation patterns to be created and health protection measures to be taken in before the threat gets too close.
The paper on this research was published in Scientific Reports.