Researchers from the Medical University of South Carolina conducted a pilot study that found transcranial magnetic stimulation (TMS) is effective in reducing depressive symptoms and some symptoms of autism in adults. The study suggests that TMS warrants further study as a treatment for adult depression and autism.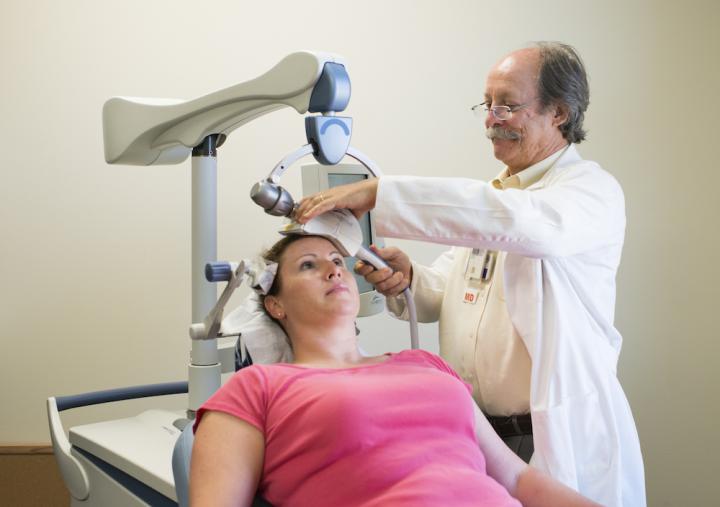 Medical University of South Carolina researcher Dr. Mark George, a pioneer in transcranial magnetic stimulation, demonstrates the technology. Source: Brennan Wesley, Medical University of South Carolina
TMS is used as therapy for treatment-resistant depression. A magnet is placed on the scalp to generate electromagnetic pulses that activate neurons in the brain near the magnet.
Autism symptoms often cause communication challenges, which causes people with autism to be more prone to depression. There is a 26-50% rate of major depressive disorder in adults with autism. Their depression tends to be more severe than in typically developing people, which means they are more likely to have suicidal ideation and attempt suicide. depression symptoms can make autistic symptoms more challenging. Depression in people with autism are also more likely to be refractory to treatment and standard antidepressant medications are not as effective and can sometimes make autism symptoms worse.
For the study, researchers gathered 13 participants aged 18 to 65 with depression and autism. The participants received 25 daily TMS treatments that targeted the left dorsolateral prefrontal cortex. Results showed that 70% of participants saw a decrease in depressive symptoms and 40% experienced remission. No changes were seen in self-reported autism symptoms but people who knew the participants reported decreases in repetitive behaviors, hyperactivity and irritability. During the study, two participants withdrew from treatments because of anxiety and irritability. Side effects of the study were fatigue, headache and scalp discomfort.
The study had limitations, including the small number of participants and all participants, knew they were receiving TMS. More conclusions from larger studies with randomized patients who receive either TMS or a sham intervention and are blind to which treatment they are receiving.
This study was published in Autism Research.