A new method to split water into its constituent parts — hydrogen and oxygen — using sunlight makes use of a photoelectrode made from nanoparticles of lanthanum, iron and oxygen. According to University of Exeter, UK researchers, this new type of photo-electrode is cheap to produce and can also be recreated on a larger scale for mass and worldwide use.
Hydrogen is a promising alternative fuel source capable of replacing fossil fuels as it has a higher energy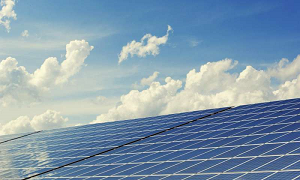 density than fossil fuels (more than double), zero carbon emissions and the only by-product is water. The sun can be viewed as Earth's most abundant renewable energy source, with the potential to provide 100,000 terawatts of power each year — meaning one hour's worth of solar energy is equal to an entire year of total energy consumption worldwide.
However, efforts to produce efficient stable semiconductor material to effectively convert sunlight to a storable widespread energy source have proven elusive. The new photoelectrode was fabricated using an inexpensive and scalable spray pyrolysis method and resulted in spontaneous hydrogen evolution from water without any external bias applied.
A faradaic efficiency of 30 percent was documented, as was excellent stability over 21 hours. The researchers are now improving the material to increase process efficiency and produce more hydrogen.
The research is published in Scientific Reports.