Regardless of the building, they all have walls.
Traditional walls are dumb, serving only to divide rooms or as support structures. But researchers at Carnegie Mellon University (CMU) and Disney Research have found a way to turn dumb walls into smart walls at a cost of about $20 per square meter using conductive paint and some electronics.
Called Wall++, these smart walls might enable users to place or move light switches or other controls anywhere on a wall or to control video games by using gestures. The system would also adjust light levels when a TV is turned on or alert a user at another location when a laundry machine or electric kettle turns off.
"Walls are usually the largest surface area in a room, yet we don't make much use of them other than to separate spaces, and perhaps hold up pictures and shelves," said Chris Harrison, assistant professor in CMU's Human-Computer Interaction Institute (HCII). "As the internet of things and ubiquitous computing become reality, it is tempting to think that walls can become active parts of our living and work environments."
How They Did It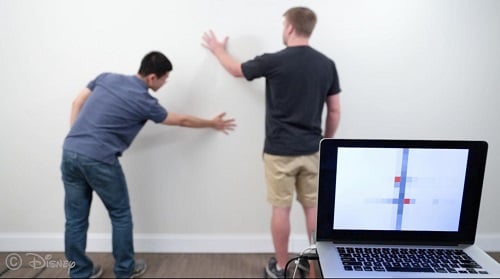 Researchers build a touch screen wall with conductive paint and electrodes. Source: Carnegie MellonResearchers used conductive paint to create electrodes across the surface of a wall that would act as a touchpad to track users' touch and an electromagnetic sensor to detect and track electrical devices and appliances.
The team used water-based paint containing nickel with special coating with simple tools and without any special skills. Painter's tape was used to create a cross-hatched pattern on a wall into a grid of diamonds, which in testing showed was the most effective electrode pattern. After two coats of conductive paint were applied with a roller, they removed the tape and connected the electrodes, finishing off the wall with a top coat of standard latex paint to improve durability and hide the electrodes.
The electrode wall works in two modes — capacitive sensing and electromagnetic sensing. In capacitive sensing, the walls functions like a touchpad so when a person touches the wall, it distorts the wall's electrostatic field at that point. In EM sensing mode, the electrode can detect electromagnetic signatures of electrical or electronic devices, enabling the system to identify the devices and their locations.
Wall++ has not been optimized for energy consumption yet but researchers estimate a smart wall could cost the consumer about as much power as a standard touchscreen.