New Yorker Electronics has begun distribution of Vishay Intertechnology's next-generation Miniature IR Receiver Modules for IR remote control applications. The new devices in the Vishay Semiconductors TSOP11xxx, TSOP12xxx, TSOP13xxx, TSOP14xxx and TSOP18xxx families deliver improved dark-ambient and disturbed-ambient sensitivity to infrared signals, as well as improved suppression of RF noise.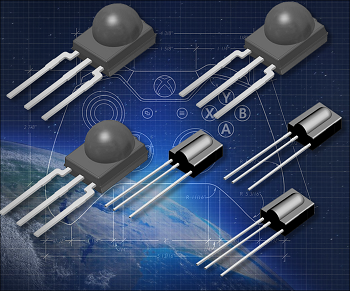 Source: New Yorker Electronics
These new IR receivers provide increased robustness against disturbances such as IR emissions from CFL lamps and RF emissions from on-board Wi-Fi antennas. Applications for these infrared (IR) remote control units include televisions, set-top boxes (STBs), audio systems, air conditioners, video projectors, cameras and video game systems.
Suitable for codes demanding even the tightest pulse-width specifications, such as SIRCS and RCMM, they display improved pulse-width accuracy for lower bit error rates and are insensitive to supply voltage variations and ripple noise — leading to more simplified designs.
Available in cast, mold, minimold and minicast packages, they feature a photodetector, preamplifier circuit and an IR filter in a single three-pin epoxy package.
Features and Benefits:
Feature a photodetector, preamplifier circuit and IR filter in a single three-pin epoxy package
Offered in cast, mold, minimold, and minicast packages
Available with carrier frequencies from 30 kHz to 56 kHz
Six automatic gain control (AGC) versions for short and long burst codes
Feature a supply voltage from 2.5 V to 5.5 V
Low supply current
RoHS-compliant, halogen-free and Vishay Green
Applications:
Televisions
Set-top boxes (STBs)
Audio systems
Air conditioners
Video projectors
Cameras
Video game systems
New Yorker is a franchise distributor for Vishay and supplies its complete line of discrete semiconductors (diodes, MOSFETs and infrared optoelectronics) and passive electronic components (resistors, inductors and capacitors), as well as its full line of Vishay Super 12 Featured Products.