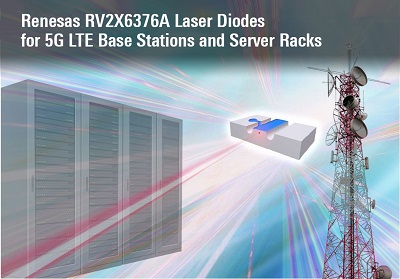 The RV2X6376A DML diodes. Source: Renesas Renesas Electronics has introduced a series of directly modulated laser (DML) diodes to allow for high-speed optical communications and stable operation in harsh environments up to 95 degrees Celsius and down to minus 40 degrees Celsius.
Renesas introduced the new series at this week's 2018 Optical Fiber Communication Conference and Exposition (OFC) being held in San Diego.
The DMI diodes deliver 25 Gbps by four wavelengths as the light source in 100 Gbps optical transceivers for high-speed communications inside 4.9G and 5G LTE base stations and between data center routers and servers.
The RV2X6376A series are designed into compact 100 Gbps QSFP28 optical transceiver models that use conventional NRZ modulation. The diodes are compatible with the Coarse Wavelength Division Multiplexing (CWDM4) standard that specifies four lanes of 25 Gbps optically multiplexed onto and demultiplexed from duplex single mode fiber.
The diodes are currently sampling and mass production is expected to begin shortly.