Mercedes-Benz has introduced a new home charging system for electric vehicles and plug-in hybrids that is more powerful than previous generations, and various functions can be controlled through a smartphone.
The smartphone app connected with the new Wallbox charging system can operate the charging control, user management and consumption overview. The Wallbox allows for charging up to 22 kW, which allows for faster charging, considering Mercedes-Benz's third-generation plug-in hybrids can take a charging rate of 7.2 kW. This allows for the vehicle to be charged up to four times faster than from a traditional wall socket, the company says.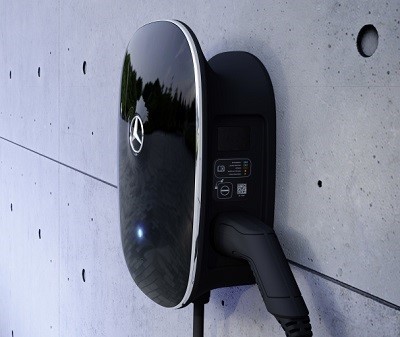 A smartphone app can monitor charging control, user management and consumption. Source: Mercedes-BenzThe intelligent advanced and twin Wallbox chargers are internet-capable with built-in electricity meters and allow access control via radio frequency identification (RFID). This allows homeowners to manage several vehicles by different users. This is something that Mercedes-Benz says may appeal to fleet managers, office communities or apartment buildings.
Mercedes-Benz says intelligent sharing of the charging power can be accomplished by load managers with up to 14 additional Wallboxes without the need for an existing house connection, meaning that two vehicles can be charged simultaneously from the same Wallbox.
The Wallbox will be available in Europe this summer with the charging station available in 40 other markets later on.