Pop quiz: Do you know how many colors a typical digital camera can detect?
(a) 3,000.
(b) 300,000.
(c) 3,000,000.
(d) Just three.
Correct answer: (d) Just three. A camera might have millions of individual image sensors each representing a single pixel, but ultimately it all boils down to reds, greens and blues. The discovery that pure white light results from a mixture of these three colors dates all the way back to 19th century Scottish physicist James Clerk Maxwell, who used that knowledge to present the world's first demonstration of color photography.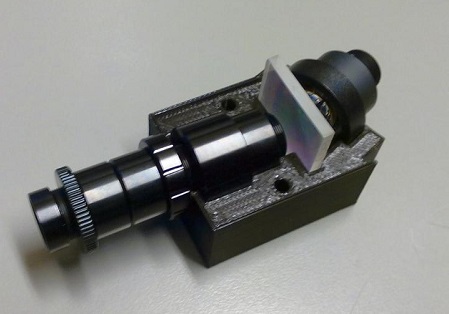 Custom optics holder, produced with 3D printing. Source: Fred Sigernes, University Centre in SvalbardHyperspectral imagers are a different breed. Each pixel of a hyperspectral image contains information covering a much wider range of the electromagnetic spectrum; several hundred colors can be detected. Some hyperspectral imagers can go beyond the visible and find "fingerprints," or spectral signatures, that can be used to locate objects, identify materials or detect processes.
A wide variety of applications exist for hyperspectral imagers; not surprisingly, however, they can cost tens of thousands of dollars and are very bulky and heavy. But a new study published in The Optical Society (OSA) journal Optics Express shows how researchers were able to use 3D printing and low-cost parts to create an inexpensive, visible-wavelength hyperspectral imager light enough to be used onboard a drone.
The study includes a "recipe" for creating these imagers. It can be followed for as little as $700, and will produce imagers that weigh less than half a pound.
The research team, led by Fred Sigernes of University Centre in Svalbard (UNIS), Norway, tested out several prototypes of their device; a desktop 3D printer was employed to create inexpensive custom optics holders out of plastic. Someone following the recipe could order durable metal versions once they settled on the right shape.
"Making items in metal is time-consuming and can be very expensive," says Sigernes. "However, 3D printing with plastic is inexpensive and very effective for making even complex parts… I was able to print several versions and try them out."
The imagers employ a "push-broom" scanning technique, which uses precise line-scanning to build up a spectral image and is similar to the way a photocopier works. The researchers added an inexpensive, gyroscope-based electronic stabilization system so that the drone's movement would not distort the image as it was being generated.
While the new imagers don't provide the sensitivity of traditional hyperspectral imagers, their performance is sufficient for mapping terrain or detecting ocean color in daylight. The team is now working to improve sensitivity by making slightly larger versions of the instruments that would still be small and light enough for use on drones.
"There are many ways to use data acquired by hyperspectral imagers," Sigernes says. "By lowering the cost of these instruments, we hope that more people will be able to use this analytical technique and develop it further."