Robots are a relatively recent entrant into the healthcare sector, contributing to medical imaging services over the last 25 years. According to market research and strategy consulting company Yole Développement and its partner KnowMade, the surgical robotics market will experience an impressive 17 percent compound annual growth, from $3.7 billion in 2016 to $8.8 billion in 2022.
Now surgical robots are making their mark by functioning as the surgeon's hands and eyes. The technology has enhanced microsurgery and precision capabilities for the surgeon and shortened patient recovery time by broadening opportunities for minimally invasive procedures.
Advanced sensors are spurring continued development of surgical robotics, particularly haptic devices that impart the sense of feel essential to the surgeon. TransEnterix is the first to propose a surgical robot with haptic feedback capabilities and is beginning the commercialization of the product. Another trend, already evident in the endoscopy market, is the move toward disposable image sensors to achieve a disposable laparoscope. While not yet observed in the surgical robots market, this technology driver will probably surface in the future as regulations evolve towards more disposable scopes.
Such sensors would improve the quality of images produced by high-resolution Compact Camera Module or Complementary Metal-Oxide Semiconductor cameras. This would completely change the number of cameras sold to surgical robot-makers, shifting from a single camera per robot to as many as one camera per surgery.
Different sensor strategies can be used separately or combined together in rehabilitation robotics and prosthetic, dynamic control with torque and force sensors, kinematic control with inertial sensors and trigger control with myoelectric sensors. A single rehabilitation robot can embed dozens of sensors.
Intuitive Surgical has led in the field of minimally invasive robotic surgery, but newcomers like Cambridge Medical Robotics and others are now entering the market with new technologies. In December 2015, Google's Alphabet and Johnson & Johnson announced the formation of Verb Surgical, which is building a digital surgery platform combining robotics, advanced visualization, advanced instrumentation, data analytics and connectivity.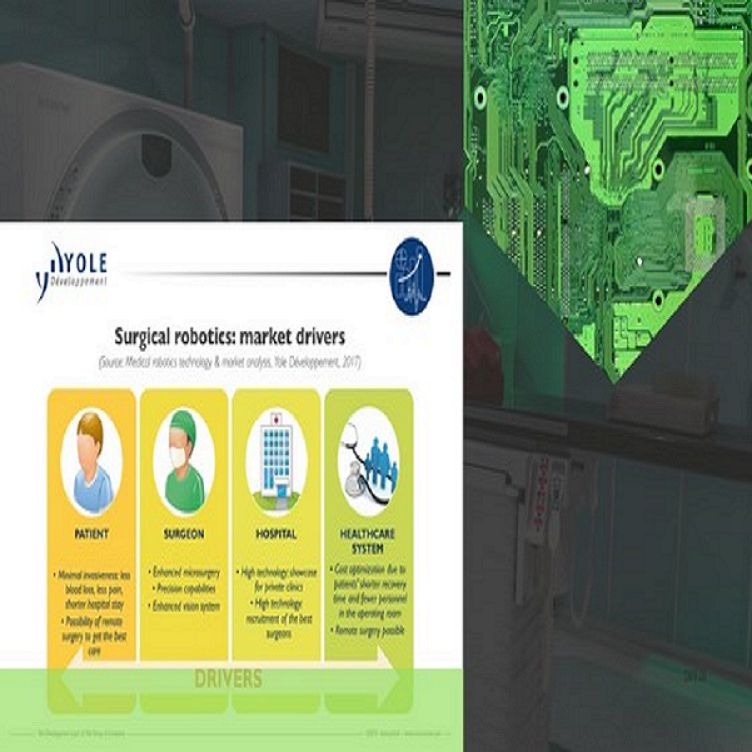 Source: Yole Développement