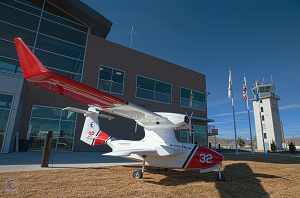 The autonomous air tanker will benefit from Drone America's experience developing its Ariel UAV. Source: Drone America
The aerial firefighting toolbox expands with the development of the world's first autonomous air tanker. The craft is being designed by an alliance formed between Thrush Aircraft and unmanned aerial vehicle and systems manufacturer Drone America.
Only manned air tankers are currently used in airborne firefighting operations, and they are restricted from fighting fires during night hours. Autonomous tankers can take special advantage of the cooler night temperatures and reduced fire activity to support tactical ground operations, without risking the lives of pilots. Unmanned aerial vehicles (UAVs) orbiting high above other firefighting aircraft and equipped with infrared cameras, sensors and integrated communications equipment are well-suited to systematically map and communicate fire intensity, rate and direction of spread. This intelligence gathering enhances civilian and firefighter safety on the ground, and helps to link voice and data transmissions across different and otherwise incompatible communication systems.
The new tanker is expected to blend Thrush's large airframe and airborne delivery system expertise with Drone America's "Ariel" amphibious platform. The autonomous aircraft will be capable of delivering some 800 gallons of water or fire retardant, and will also have the ability to conduct long-duration tactical surveillance flights over a fire to give firefighters, operations managers and public safety coordinators on the ground real-time understanding of conditions and fire behavior.
While the initiative focuses on firefighting, the two companies will also examine the potential for UAVs in other heavy-payload applications, such as delivering humanitarian aid, disaster relief, remote cargo transportation and maritime patrol.