The internet of things is often discussed as if it is a technology of tomorrow, when in fact a good portion of it is already here today. Southern California-based semiconductor supplier Semtech is taking what it has learned thus far from experience in the IoT space to help shape the next generation of low-power, long range (LoRa) wireless devices.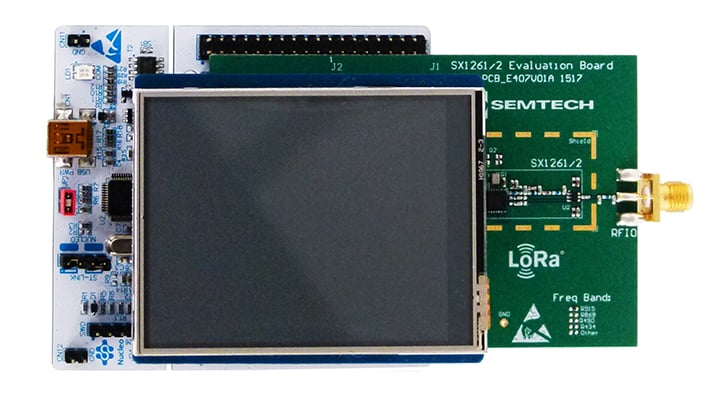 Semtech's new chip offers significant improvements in performance and functionality. Source: Semtech Corporation.To that end, the company has expanded its existing LoRa portfolio with a new chip platform that, according to Vivek Mohan, director of wireless IoT products, offers significant improvements in performance and functionality. The devices are currently sampling to Semtech lead customers and partners, and will be available in full production late in the first quarter of 2018.
Electronics360 recently had a chance to chat with Mohan, who outlined three areas addressed by the technology:
Reduction in power consumption: Although sensor nodes are generally designed for infrequent transmission (such as once-daily "Hey, I'm alive" types of messages, as Mohan puts it), the link budget — all the gains and losses from transmitter to receiver — is significant. That's because many sensors are in hard-to-reach areas, such as behind walls or in pipes or buried underground, with signals that need to get out to base stations that may be located on rooftops or towers. These devices also need to last for a decade or more, which strains the economics of typical lithium batteries.

By making modifications to the radio technology, such as introducing power management blocks and device-side firmware controls, the new devices offer a 50 percent reduction in power consumption in "receive" mode. This level of power savings leaves the door open for the introduction of alternative, low-cost battery materials, such as zinc — and also allow more to be done with existing lithium batteries (to transmit 10 times per day, rather than one). This bodes well for the prospect of performing over-the-air firmware updates, which is something that devices deployed for 10 years at a stretch will almost certainly require.
Increased transmission power: Moving the transmit benchmark from +20 dBm to +22 dBm might sound minor, but according to Mohan it roughly translates to a 20 percent improved range in a line-of-sight environment.
Reduced sensor size: With a 45 percent smaller platform, the new devices are designed to work around existing space constraints — a significant factor in IoT applications. A simplified user interface is also in place, allowing developers to get the device up and running with only a few lines of code.
"Overall, we think that this radio will enable new applications and services at a cost point that will really allow mass adoption of these IoT sensors," Mohan said.
LoRa Tag
On a separate note, Mohan says that Semtech is developing a tag that integrates with batteries developed by Imprint Energy that can be printed onto a a flexible paper substrate. These could be game-changers for applications in supply chain and logistics, allowing a supplier to track a lost package — or even to know whether a direct-mail piece sent to a potential customer was opened or thrown away. Currently, this kind of tracking is viable only for "high-value" assets, in part due to the battery costs involved. The tag represents a disposable sensor solution.
An additional application is health care: Imagine, for instance, arriving at an emergency clinic and not having to wait for someone to come and take your vital signs — because a disposable patch placed on your arm can automatically measure, record and upload them instead.
Mohan says that, while the tags may not be seen in the marketplace for approximately another year, the market need is quite clear. Currently, the tag is being trialed by a number of LoRa Alliance members.
"We're not creating technology for technology's sake," Mohan said. "It will take some time to prove itself out, but we're on the leading edge...we're putting in a lot of effort not just on the radio side, but also working with the ecosystem to make sure the solution is available."
Catch Semtech at CES 2018
Semtech will be demonstrating the latest in IoT platforms at CES 2018, both on the show floor (booth #2115, Westgate) and in a private demo suite (contact meetings@semtech.com for more information).