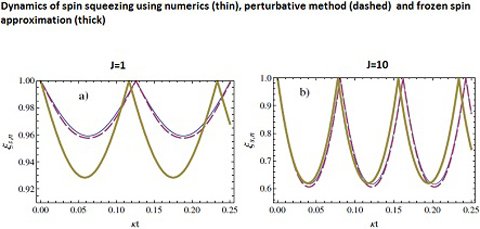 Source: Aranya Bhuti Bhattacherjee
Noise distracts humans every day. But humans are not the only things affected by noise. Noise occurs on the quantum scale and can interfere with things like the measurements of atomic fountain clocks or with quantum information processing.
This is because, at that small scale, there are effects that don't exist at larger scales. Because of this, finding ways to reduce quantum noise can enhance the precision of measurements taken at a quantum scale.
A team of physicists, including Aranay Bhattacherjee from Jawaharlal Nehru University at New Delhi, India, and colleagues, are researching ways to improve the analysis of quantum noise measurement in spectroscopic investigations. The team's method, called atomic spin squeezing, works by redistributing the uncertain and uneven between two components of spin in the measurement systems that operate on the quantum scale. The spin represents a degree of freedom of the quantum particles that are involved. Therefore, the spin component, with reduced uncertainty, becomes more precise in delivering the measurement because the two are inversely correlated. There are many potential developments of future quantum networks.
The quantum mechanical uncertainty of spin operators limits the measurement accuracy of spectroscopic devices. Reducing noise can help entangle two distant objects, like two atoms that are spatially separated.
In the study, the authors developed a new approach that relies on spin-squeezed states. It is also designed to accurately analyze the reduction of quantum noise in the atomic systems that are associated with the spectroscopic measurements of atomic clocks.
The new method involves reducing the spin fluctuations in one spin component that is perpendicular to the mean spin direction that is below the standard quantum limit. Accurately describing these systems has, until recently, only been able to be done with numerical simulations.
The team demonstrates that their new method yields better results than the existing analytical methods and matches with the same numerical techniques.
The paper on this research was published in European Physical Journal.