Monitoring of vital signs in a hospital setting can require the use of tubes, wires and tape, often proving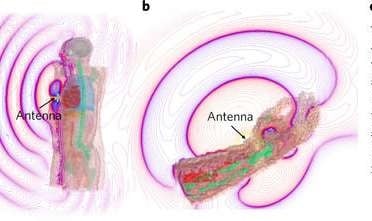 Electromagnetic simulations of a male torso (left) and a lower left arm (right). The patterns shown are the real part of the co-polarization electric field in the torso simulation model for heartbeat sensing (left) and in the wrist simulation model for pulse sensing (right). Credit: Nature Electronics (2017).uncomfortable or even painful for the patient. A device was engineered at Cornell University to enable tracking of vital signs without direct skin contact.
RFID chip technology is used to send a radio signal into the body and then listen to the return signal; the information is then relayed to a nearby processing unit. The system can be used to monitor vital signs if programed in specific ways. By sending a signal into the chest and noting slight disturbances in the signal that is sent back, the device is able to monitor breathing activity. It can also monitor the heartbeat, and by placing another of the devices near the wrist, it can be used to measure blood pressure by calculating elapsed time between heartbeats.
The compact sensor could be sewn into a bed sheet or hospital gown, enabling each patient to be monitored by one or more of the devices without attaching anything to the body. The researchers observe that that because the hardware already exists, using it to monitor patients would be inexpensive and easy to use by hospital staff.
The research was published in Nature Electronics.