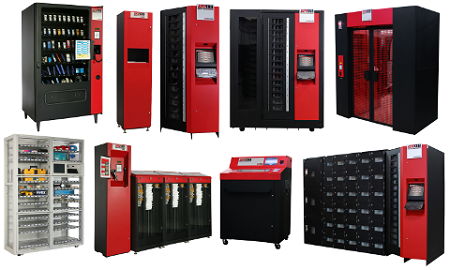 AutoCrib industrial vending machines. Source: DistributionNOW.
Snacks. Newspapers. Lottery tickets. Valve fittings.
Wait, what?
It's a real thing: industrial vending machines can be stocked with all types of inventory and represent an effective "lean" solution for point-of-use inventory management.
According to a new study by San Francisco-based Grand View Research, Inc., the global market for the devices was valued at $715.6 million USD in 2016, and is expected to reach $1.43 billion by 2025. Thanks to machine availability on a rental basis, more small and medium enterprises (SMEs) are adopting industrial vending as a low-cost solution; countries in developing regions such as Asia Pacific are also expected to foster industry growth.
How does it work? Industrial vending machines made by Tustin, California-based AutoCrib, Inc., a pioneer in the field since 1994, are designed to dispense items when a worker scans an ID or fingerprint. Items can also be returned to the machine in the same way. The company lists several examples of inventory that can be managed via vending machine: tools; personal protective equipment (PPE) gloves; maintenance, repair and operations (MRO) supplies, test equipment; laptops; radios; spare parts — "literally everything that's considered inventory."
Sounds like quite the novelty, but it's much more than that: The system can dispense items 24/7 and perform automatic recordkeeping. It can also be used to re-order products when supplies are low. Data collected can be used to forecast inventory needs based on actual demand, more accurately bid on customer jobs and to monitor the location of all inventory at any given moment. AutoCrib states that industrial vending can be used to realize a 20 to 50 percent savings on inventory spend.
Another company offering industrial vending solutions is Winona, Minnesota-based Fastenal. In addition to distributing fasteners, tools and supplies, Fastenal makes machines that can perform standalone vending of high-use consumables or be linked to a locker system to control access to larger repetitive-use items. The company touts the "green" aspect of industrial vending, noting its ability to reduce waste and redundancy.
Additional industry players include Apex Industrial Technologies LLC; Brammer; CribMaster; CMT Industrial Solutions; Grainger, Inc.; IVM Ltd.; Silkron; SupplyPoint; and SupplyPro, Inc.
Grand View's study specifically highlights vending machines designed to dispense personal protective equipment (PPE) as a growing segment of the market, thanks to an increased emphasis on employee safety. Another growing area is vending machines for maintenance, repair and operations (MRO) supplies, which are employed on a large scale by industries such as manufacturing, oil/gas and aviation, where the cost of downtime is high.
Also noted is the implementation of radio-frequency identification (RFID) and cloud infrastructure in vending equipment. Original equipment manufacturers (OEMs), moreover, are developing IoT-enabled vending machines that allow remote access to data and help to prevent fraudulent activities such as misuse and theft.
We've come a long way since the first "modern," coin-operated machines arrived on the scene in the early 1880s, vending postcards at railway stations. And even further since the earliest known reference to a vending machine, the work of first-century engineer Hero of Alexandria, which dispensed holy water in exchange for a coin.
Click here for more information on the Grand View Research study.