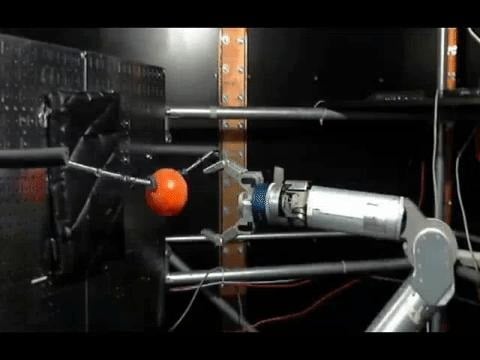 Monkeys used their thoughts to grasp a ball with a robotic arm. Image credit: Nicho Hatsopoulos, Karthikeyan Balasubramanian.A new study at the University of Chicago shows how electrodes implanted in the brain can be used by amputees to control a robotic arm.
The study details changes that take place in both sides of the brain -- important because the side of the brain opposite to a limb is the one that controls it. The research shows how both areas can create new connections to learn how to control the device, even several years after an amputation.
"That's the novel aspect to this study, seeing that chronic, long-term amputees can learn to control a robotic limb," said Prof. Nicho Hatsopoulos, PhD, who served as senior author of the study.
While previous experiments have shown how paralyzed patients can move robotic limbs through a brain machine interface, the new study is one of the first to test the device's viability for amputees.
For the purposes of the study, the researchers worked with three rhesus monkeys – each of which had to have an arm amputated after suffering injuries at a young age. Two of the monkeys received implanted electrode arrays in the side of the brain contralateral to (opposite) the amputated limb, which is the side used to control it. The third monkey had its electrodes implanted on the ipsilateral (same) side, which controls the intact limb. The monkeys were then trained to grasp a ball with a robotic arm, using only their thoughts.
A statistical model was used to calculate how the neurons were connected to each other -- before the experiments, during training and once the monkeys mastered the activity. It was found that the neuron connections on the contralateral side, as expected, were sparse before the training; as training progressed, however, the connections became more robust and dense in the areas used for reaching and grasping.
Interestingly, the initial dense connections of the neurons on the ipsilateral side became thinner as training progressed – before rebuilding into a new dense network. "That means connections were shedding off as the animal was trying to learn a new task," said Karthikeyan Balasubramanian, PhD, a postdoctoral researcher who led the study. "But after a few days, it started rebuilding into a new network that can control both the intact limb and the neuroprosthetic."
The team plans to continue their work by combining it with research by other groups, in order to equip neuroprosthetic limbs with sensory feedback about the sense of touch and the sense of proprioception, or where the limb is located in space.