The Internet of Things market is likely to be worth $561.04 B by 2022 according to researchers. Increasingly, consumer will have multiple devices they'll want synced to each other as well as backed up to the cloud. In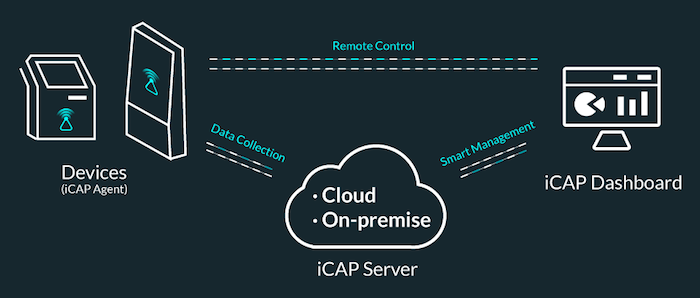 The iCAP solution (Source: Innodisk)preparation, Innodisk, a provider of flash memory, DRAM modules and embedded peripheral products for business applications, has launched its new cloud management platform, iCAP.
By 2020, there will be some 50 billion connected devices in use. At the same time, solid state drives (SSD) will surpass hard drives as the most common storage medium, as SSD technology continues to move toward lower prices and higher capacities. However, this trend will also lead to a decrease in overall SSD endurance.
iCAP helps users access their data more quickly. It is deployed through the Internet and intranet, and will gather data from all connected devices. That information is then accessible through a browser-run dashboard, where a user can easily monitor device status. Because such analysis provides accurate storage lifespan predictions, equipment can be properly maintained, avoiding failures before they occur as well as the downtime they incur.
Many devices can be connected, either on-premise or through the cloud, and is designed for automation, retail, transportation and surveillance applications.