Embedded computing provider Advantech has launched new UTX-3117 gateway -- a fanless, extended-temp embedded device that ties various Internet of Things systems together. Targeted at the industrial IoT market,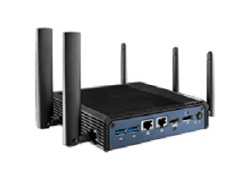 Advantech's UTX-3117 gatewaythis integrated IoT gateway solution is aimed at outdoor or harsh environment IoT applications, including smart city street lighting control, retail control systems, metering, parking, HVAC and healthcare. Gateways are necessary to manage those complex environments by aggregating sensor data, translating between sensor protocols and processing the information.
The UTX-3117 gateway is certified with AWS Greengrass IoT and compatible with Microsoft Windows 10 IoT Enterprise and Wind River Pulsar OS. A complete sensor-to-cloud connectivity solution, it has three radio frequency modules, a double-sided thermal solution and three independent modules to maintain maximum radio frequency in extended temperatures. Five state-of-the-art antennae are strategically located to prevent signal conflicts.
The IoT gateway market overall is growing. ABI Research predicts that IoT gateway shipments will exceed 64 million units in 2021. Although home automation and security market components will account for more than half of the shipments, the most revenue will be generated by of the mobility and transportation segments, as well as industrial and infrastructure use.