Danfoss Silicon Power GmbH , a semiconductor company based in Schleswig, Germany, is the new addition to the "Tech Valley" of Upstate New York. The company manufactures electric power modules for the automotive, general industrial and alternative energy areas.
In March, New York Gov. Andrew Cuomo, and Claus Petersen, CEO of Danfoss Silicon Power, announced the new initiative to advance the production of silicon carbide (SiC) technology, with particular emphasis in chip packaging. Today, just over six months later, the company is welcoming the first employees.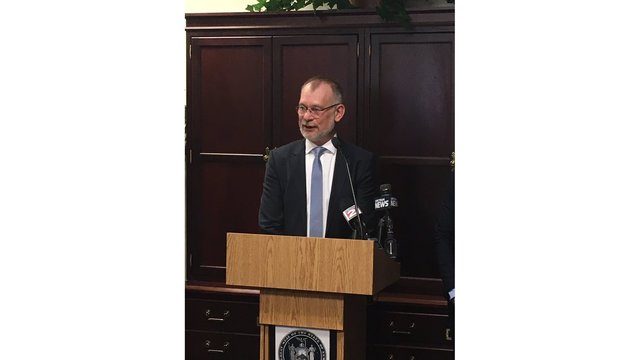 Claus Petersen, CEO Danfoss Silicon Power, announcing their plans to move into Quad C. Source: SUNY Poly
The new factory, expected to create 300 high-paying jobs, will be located at the Computer Chip Commercialization Center (Quad-C) of the State University of New York Polytechnique Institute's Utica campus.
Danfoss Silicon Power formed a consortium with General Electric, "to focus on next-generation semiconductor research, development, and commercial fabrication 'to meet the global demand for smaller, faster, and more efficient devices,'" according to a press release.
The enterprise will occupy the entire Quad-C facility, which includes two clean rooms, labs and office space.
"It is a true pleasure to be here today, to see this facility being ramped up and be part of the on-boarding of the new colleagues in the Danfoss family. This is certainly a very important step for Danfoss, and we see a huge potential in the production here in Utica," said Kim Fausing, Danfoss CEO.
"We're making great progress, including starting up construction and ordering equipment and hiring our first employees," general manager of the new facility, Mike Hennessey, added. "This is just the beginning of our exciting business journey that will expand the scope of the Nano Utica initiative from computer chip commercialization into power electronic applications for industrial products in many clean energy applications."
Silicon carbide is used to fabricate semiconductor devices of the wide-gap semiconductor group. They are more attractive than silicon (Si) devices for high-voltage power semiconductors. The high breakdown field strength and thermal conductivity of SiC make this composite material ideal for such type of devices to produce smaller form factor, more efficiency and higher operating temperature components.
This new facility will advance New York's leadership in next-generation semiconductor power devices.
"Today the US demand for power modules is mainly driven through Japanese and German imports. With this investment Danfoss will offer the US market a strong local partner, capable of providing best in class in packaging technology and high volume, high-quality manufacturing," said GE Global Research Vice President Danielle Merfeld.
"We're thrilled to see Danfoss joining the power electronics packaging facility at QUAD-C. They will be a key partner in advancing and commercializing the next generation of power devices with silicon carbide technology to usher in the next revolution in power. Together, we will work with the state to attract even more partners to accelerate new developments that solidify Utica and Upstate New York's place in leading this transformational change across the energy sector."