Most piezoelectric device applications use bulk materials that hamper miniaturization, preclude flexibility and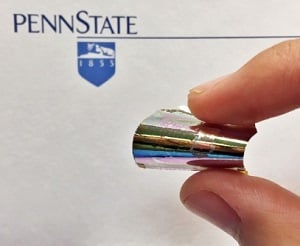 Electroded thin-film PZT on a flexible polyimide substrate of relatively large area. Source: Tianning Liunecessitate high-voltage operation. Thin-film piezoelectrics, with dimensions on the scale of micrometers or smaller, offer potential for new applications where smaller dimensions or a lower voltage operation are required. However, thin film performance is also constrained by substrate rigidity.
Flexibility is now imparted to these materials by connecting a sample of lead zirconate titanate (PZT) piezoelectric thin films to flexible polymer substrates. Pennsylvania State University researchers grew polycrystalline PZT thin films on a silicon substrate with a zinc oxide release layer. After adding a thin layer of polyimide, acetic acid was used to etch away the zinc oxide, releasing the 1-micrometer thick PZT film with the polyimide layer from the silicon substrate.
The PZT film on polyimide is flexible while possessing enhanced material properties compared to films grown on rigid substrates. These films had a 45 percent increase in remanent polarization over silicon substrate controls, indicating a substantial mitigation in substrate clamping and improved performance.