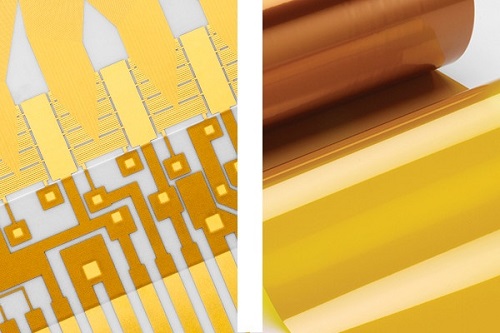 Photo courtesy of Metrigraphics
Conventional flex circuit manufacturing often starts with rolls of Kapton® tape — a Dupont film pre-clad via silicon adhesive to a metal layer. It's a dependable substrate for chemically etched or laser-ablated circuits with layers starting around 27 microns thick, and with allowed tolerances of a circuit's line widths and spaces that are measured in mils. But for the smallest of flexible microcircuits where layers need to be thinner, and tolerances are measured in microns, Kapton is prohibitive due to its thickness and processing constraints. In situations requiring the tiniest bendable circuits and sensors, designers should consider manufacturing their devices directly on polyimide film using additive photolithographic and sputtering processes offered by advanced thin-film manufacturers.
The most forward-thinking of thin-film manufacturers today can deliver micron-scale flex circuits with up to six layers, each as thin as 10 microns, with trace lines and spaces as small as three microns, and via diameters as small as 25 microns. In contrast, the smallest conventional flex circuits on Kapton might be a half- or one-millimeter thick, and with trace lines and spaces measured in tenths of millimeters.
Thin Film's Significant Difference as compared to Chemical Etching or Laser Ablation
Contrary to the removal process employed when beginning with Kapton and chemical etching or laser ablating material off the substrate, thin film starts with putting a base polyimide layer down on a glass carrier, which then has a very thin metal seed layer sputtered onto it. The seed layer is covered with a photo-resist, the circuit pattern is imaged onto it, and then additional metal is deposited to build up the circuit lines additively to reach the required height and thickness. (The thicker the lines the more current they can handle.) To add another circuit layer a second seed layer is sputtered on top of the first, and the process is repeated. Once a circuit is fully processed, it is easily removed from the glass carrier with water, creating a miniature, flexible circuit.
By contrast, to add multiple circuit layers using the Kapton/subtractive method, the individual circuit layers are built separately and bonded together with adhesive in a heated vacuum press.
Because thin-film circuit processes employ a direct metal-to-metal bond, without adhesive, the bonds are stronger and circuit purity is higher. thin film's additive process also ensures consistent and straight trace walls and via walls, creating dependable and repeatable performance. These are all key considerations in many flexible microcircuit applications, especially medical sensors, and sensitive RF and microwave electronics.
The ultimate factor in deciding when not to use a Kapton related manufacturing method for a flex circuit is a combination of desired size and flexibility. Basically, the moment you're uttering "micron" as opposed to "mils", best to start thinking about thin film.