Yards and owners can now use computational fluid dynamics (CFD) simulation to analyze the fuel efficiency of hull design variants at full-scale with the Virtual Trial application from DNV GL, an internationally accredited registrar and classification society headquartered near Oslo, Norway. Results are available within one week in the form of a web-based report, allowing users to see CFD results and hull lines in 3D and gain more insight into flow details.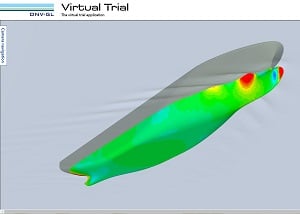 (Source: DNV GL)CFD has emerged as a viable alternative to traditional model basin tests while reducing lead time and costs. However, the computer resources and expert know-how to design and carry out such tests are still not wide spread.
The Virtual Trial application removes the need for expert support by streamlining and automating the CFD simulation process. Users can conduct fully automated full-scale RANSE (Reynolds-averaged Navier-Stokes equations) VoF (Volume of Fluid) CFD simulations, without the need for any CFD specific input, on the resistance and propulsion of their vessel, upload individual vessel hull forms, run simulations with pre-set parameters and then easily compare their results against the results of similar vessels in the Virtual Trial database. Whether for a new building or retrofit project, Virtual Trial reduces the barriers to full-scale CFD simulation testing and comparative benchmarking.
"Design offices and ship yards can analyze and benchmark different hull options during the conceptual design phase, then track how design changes affect a vessel's hydrodynamic performance. Ship owners can easily compare competing design proposals during the bidding process, gaining an impartial assessment of the designs at a fraction of the cost and lead time of model tests. For vessels in service, it could even act as a performance certificate, showing potential charterers or buyers how a vessel might perform within their operating profile," said Uwe Hollenbach, DNV GL – Maritime.