The answer is one. Engineers at the University of California San Diego designed a soft robotic gripper capable of delicate tasks, including screwing in a light bulb.
The three-fingered device can sense and twist objects, and can construct models of the objects being manipulated. These capabilities allow it to function under low light or low visibility conditions.
Three soft and flexible pneumatic chambers incorporated into each finger move when air pressure is applied.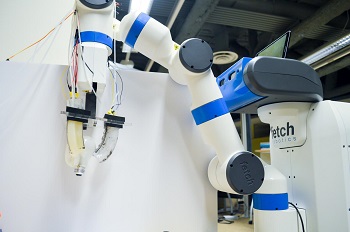 Researchers attached the gripper to the arm of a Fetch Robotics robot. Source: University of California San DiegoThe design imparts more than one degree of freedom so that the gripper actually manipulates the objects being held, enabling the device to hold a piece of paper, turn a screwdriver and…screw in a light bulb. These tasks were demonstrated by testing the gripper on an industrial Fetch Robotics robot.
Conducting carbon nanotube-based sensors are embedded in a smart tactile-sensing covering composed of silicone rubber. Sheets of the rubber are slipped over the flexible fingers to cover them like skin.
As the fingers flex, the conductivity of the nanotubes changes, allowing the skin to record and detect when the fingers are moving and coming into contact with an object. Sensor data is transmitted to a control board, which collates the information to create a 3D model of the object. The researchers explain that the process is similar to a CT scan, where 2D image slices combine to form a 3D picture.
The team next plans to add machine learning and artificial intelligence to data processing so that the gripper will actually be able to identify, rather than just model, the objects manipulated. The use of 3D printing to improve durability of the gripper's fingers will also be investigated.