The increase in terrorism and violent crime is spurring growth of global security technology—primarily in surveillance. In 2015 that market reached almost $30 billion, and has doubled over the past five years. What is now available, what's on the drawing board, and where is it all headed? What good is it doing?
While it was hardly ever easy to intercept private terrorist conversations—the ability to go dark and cover tracks—today these communications are encrypted so that personal details are hidden. Applications such as Telegram are used, especially for private communications. While the application features multiple encryption layers, terrorist communications can still be blocked—at least on public channels. According to a Tweet sent last November, "Thanks to your reports, today we were able to block another 164 public channels used to spread terrorist propaganda." The reality is that both Facebook and Twitter are entry points for the meeting of extremists—but once there, they go dark and use encryption to encode messages. It is also possible to join up to 200 members or host secret chats so that all communications will self-destruct when finished.
Privacy vs. Security
Privacy is a proverbial double-edged sword. If we undermine encryption, we undermine privacy as well—and headlines don't help the issue. When James Clapper, U.S. Director of National Intelligence, appeared before Congress, he was said to have indicated that it was possible that surveillance be undertaken via smart home devices, saying: "In the future, intelligence services might use the Internet of Things for identification, surveillance, monitoring, location tracking and targeting for recruitment, or to gain networks or user credentials." Do you take his words to mean that washing machine data is up for grabs?
While it is painfully true that security lags in connected in-home devices, we're probably somewhat safe for a while.
Post Snowden
I found an interesting graphic that shows that right after the Snowden NSA headlines in June 2013, Pew Research Center conducted a poll that indicated 48% of Americans approved of the government's collection of telephone and Internet data as part of anti-terrorism efforts. However by January 2014, approval had declined to 40%. By 2014, a separate online survey showed that more than half of U.S. citizens expressed that they were very concerned about government surveillance of data and communications versus 46% who indicated that they were not concerned.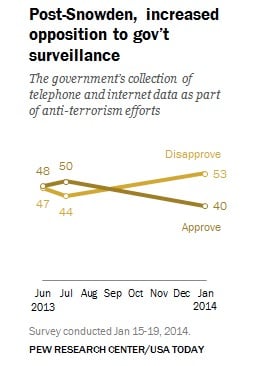 Caption 1. Snowden's revelations brought to the forefront the realities of the government's long reach.It seems that post-9/11, when another high-profile case arises, we're all behind a strong security stance, yet wanting no corresponding curbs on civil liberties. Yet, each time, law enforcement and intelligence gain a few more tools, even at the cost of some privacy of citizens. The issuance of national ID cards is an example. Right after 9/11, 70% of adults approved such cards. Yet, within weeks, that number dropped to 56%. Clearly immediate concerns about security can subside over very little time.
Add to Snowden's NSA revelation the failures of corporations to keep our personal information safe—whether in passwords, personal information, or our employee files—and paranoia is prevalent.
Pew Research also found that the public's interest and overall comfort level in sharing personal information depends on the company or organization with which they are bargaining and how trustworthy or safe the public perceives the firm to be. It also depends on what happens to individuals' data after they are collected, especially if the data are made available to third parties, and on how long the data are retained.
Boston, Paris, Brussels and an Apple computer back door, and our social security numbers online—the list goes on. And, sadly, it will continue. Here are my questions for you, should you care to chime in on privacy vs. security, 2016.
Should we increase surveillance at any cost? At what cost?
Should we have a national ID?
Do you feel we're continuing to undermine our rights?
Does surveillance make us safer?
These are just a few possible questions to get the passions running. Feel free to chime in on the topic from any reasonable point of view. What do you think?