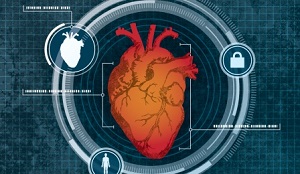 The system uses low-level Doppler radar to measure your heart, and then continually monitors your heart to make sure no one else has stepped in to run your computer. Source: Bob Wilder/University at Buffalo
Next time you log onto your computer, put your heart into it.
A new biometric system developed at the University at Buffalo (State University of New York) improves cybersecurity and eliminates the tediousness of manually logging in and out by using dimensions of your heart as your identifier. The researchers say the low-level Doppler radar-based approach is safe and a potentially more effective alternative to passwords and other biometric identifiers such as retinal or fingerprint scanning. Unlike these tools, the device is passive and non-contact, so users are not bothered with authenticating themselves whenever they log in. Constant monitoring means the computer will not operate if a different person is in front of it. As a result, people do not have to remember to log off when away from their computers.
The signal strength of the system's radar, which continually monitors the geometry and movement of your heart, is much less than Wi-Fi. About eight seconds are needed to scan a heart the first time, after which the monitor can continuously recognize that heart. The reader delivers about 5 milliwatts, less than 1 percent of the radiation from smartphones.
The researchers plan to miniaturize the system and have it installed onto the corners of computer keyboards. The system could also be used for user identification on cell phones and for airport screening.