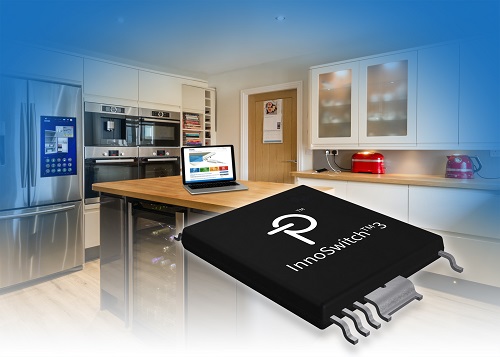 The InnoSwitch power ICs. Source: Power Integrations Power Integrations has introduced a new family of offline CV/CC flyback switcher ICs that cut losses by 25 percent, enabling compact power supplies up to 65W without heatsinks.
The InnoSwitch ICs achieve up to 94 percent efficiency across line and load conditions and is optimized for three applications for compact single-voltage chargers, adapters, Internet of Things and building automation, rapid charging and other applications where a dynamic output voltage is required and for multi-output cross-regulation for demanding industrial applications and appliances.
The flyback switcher IC features on-board high-voltage MOSFETs, an isolated digital communications technology called FluxLink, plus synchronous rectification, quasi-resonant switching and a precise secondary-side feedback sensing and control circuit. The new devices incorporate a host of protection features including lossless line overvoltage and under-voltage, output overvoltage, over-power, over-current and over-temperature protection, as well as output rectifier short-circuit protection.