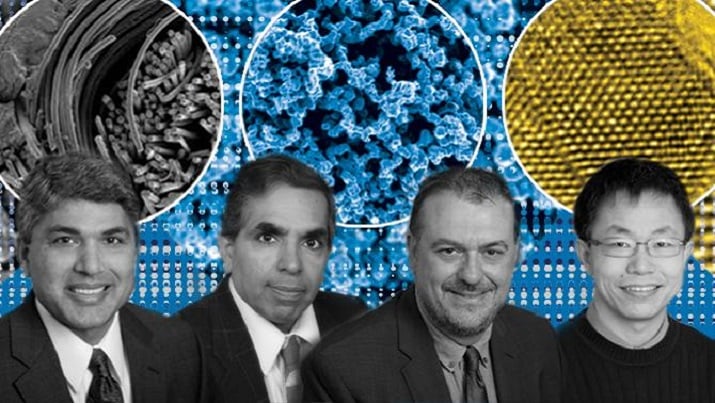 UD engineering faculty members and department leaders (pictured left to right: Prasad, Advani, Vlachos and Yan) worked together on fuel cell innovation. Source: University of Delaware.
At the University of Delaware (UD), a team of engineers has developed a technology that could make hydrogen-powered fuel cells cheaper, more durable and more quickly commercialized into fuel-cell vehicles.
A green alternative to internal combustion engines, hydrogen-powered fuel cells produce pollution-free power through electrochemical reactions. These reactions are spurred by catalysts, the most common being platinum – which at approximately $30,000 per kilogram is too costly for wide-scale adoption.
As described in Nature Communications, the UD team used tungsten carbide nanoparticles as a catalyst. At approximately $150 per kilogram, tungsten carbide is a far more cost-effective material. But, the real key is using nanoparticles in a method that was both small and scalable.
"The material is typically made at very high temperatures, about 1,500 Celsius, and at these temperatures, it grows big and has little surface area for chemistry to take place on," said Dionisios Vlachos, director of the Catalysis Center for Energy Innovation at UD. "Our approach is one of the first to make nanoscale material of high surface area that can be commercially relevant for catalysis."
The tungsten carbide nanoparticles were made through a series of steps, including hydrothermal treatment, separation, reduction and carburization. They were then incorporated into the membrane of a fuel cell.
Automotive fuel cells use a plastic-like membrane to separate the cathode from the anode, generating current by splitting hydrogen (H2) into ions (protons). This membrane wears down over time, especially as they undergo the wet/dry cycles associated with the electrochemical production of water and heat, but tungsten carbide humidifies the membrane at a level that optimizes performance. Another benefit of using tungsten carbide is its ability to capture free radicals before they can degrade the fuel cell membrane, making it last longer.
To determine fuel cell durability, the researchers used a scanning electron microscope and focused ion beam to obtain thin-slice images of the membrane for analysis.
The group has applied for a patent, hoping to commercialize their technology.