While much of the automotive world is obsessed with electric vehicles (EVs) and competing with the likes of Tesla Motors in order to provide an alternative to gas combustion engines, researchers at the University of Delaware say fuel-cell powered cars offer the best path toward zero-emission automobiles.
Fuel cells best preserve the advantages of gasoline cars because of the low upfront cost, long driving range and fast refueling, researchers say. But in order to compete with the EV, new fuel-cell technology is needed.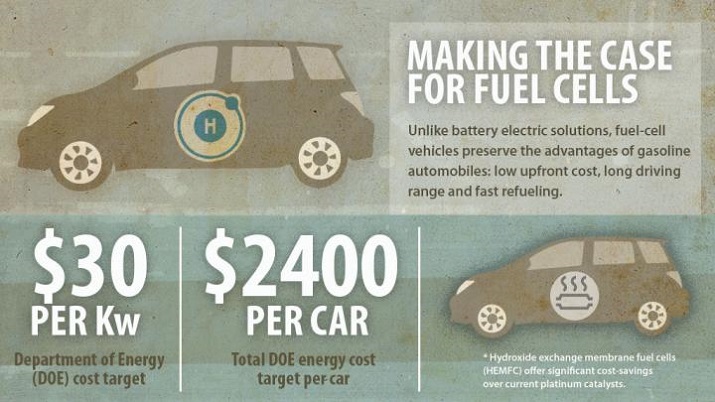 While costs have been an issue, fuel cells offer better traction in the quest for zero-emission vehicles. Source: University of Delaware Current fuel cells are known as proton exchange membrane fuel cells (PEMFCs), however, these cells are costly as they use platinum-based catalysts. To drive down costs, the team developed an alternative technology known as hydroxide exchange membrane fuel cell (HEMFC).
"To make fuel-cell cars a reality, the DOE [Department of Energy] has set a system cost target of $30 per kilowatt, which translates into about $2,400 per car," says Yushan Yan, engineering professor at the Department of Chemical and Biomolecular Engineering at the University of Delaware. "Right now, the cost for PEMFCs is $52 per kilowatt, which is a big improvement over where the technology started."
In order to encourage the proliferation of HEMFC zero-emission cars, Yan believes three things need to happen. First, fuel-cell engines must be at cost parity with their gasoline counterparts. Second, the research community needs to band together in order to further HEMFC research. And third, lower costs cannot be the only advantage.
"It doesn't work to compare our results today with those from yesterday or the day before," Yan says. "To succeed commercially with HEMFCs, we have to match or beat the performance of PEMFCs. It's that simple—we can't succeed without achieving performance parity."