A flexible battery powered by IV saline solution and other body-inspired fluids was developed as an alternative to rigid lithium-ion batteries for wearable electronics and medical implants.
The design of batteries for these applications typically requires structural reinforcement to prevent hazardous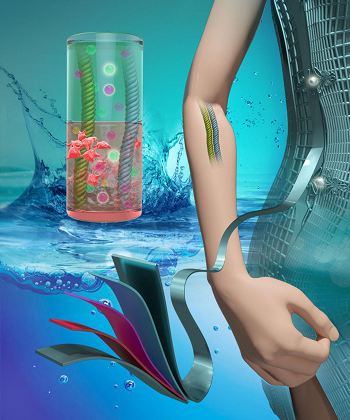 Artistic rendering of fiber-shaped implantable batteries using biocompatible electrolytes. Source: Guo et al.chemicals from leaking out. To eliminate these safety concerns, researchers from Fudan University in China swapped out toxic and flammable liquids for cheap, biocompatible and environmentally-conscious sodium-ion solutions. Among those solutions were two biocompatible ones suitable for implantable devices, given that they pose no harm to the surface or interior of the body. The danger posed by electrolyte leakage is minimized by the use of either the normal saline solution pumped into the body in most IV treatments or a cell-culture medium that contains amino acids, sugars and vitamins in addition to sodium ions.
The design of a 2D "belt"-shaped battery includes thin electrode films attached to a net of steel strands. The researchers also developed a 1D fiber-shaped battery with nanoparticles of electrode material embedded around a carbon nanotube backbone.
In tests using sodium sulfate solution as the electrolyte, the charge-holding capacity and power output for the size of both battery designs was superior to that of most available wearable lithium-ion devices. These performance levels were sustained when the batteries were folded and bent to simulate the impact of wrapping a sensor, watch, or similar device around one's arm. Charge-holding capacity was marginally reduced for the saline- and cell-culture-based batteries, likely because of slightly lower sodium-ion content than the sodium sulfate solution.
The researchers observed that the carbon nanotubes in the 1D battery can accelerate the conversion of dissolved oxygen into hydroxide ions, a process that undermines battery effectiveness if left uncontrolled. However, as a stand-alone process, this reaction offers therapeutic potential for treating cancer and bacterial infections.