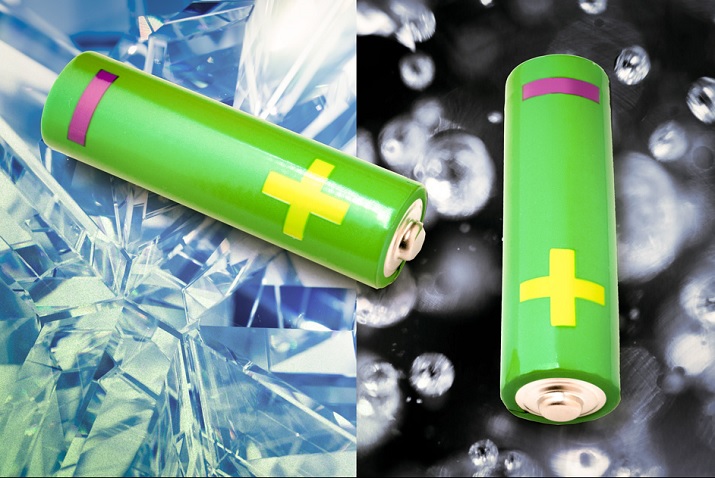 Research as found batteries turn to a disorganized glassy form when discharged or charged. Source: MITWhen a battery is charged, ions travel back and forth from the one of the battery's electrodes to the other. This causes the electrode to swell and contract.
A team of researchers from MIT, the University of Southern Denmark, Rice University and Argonne National Laboratory have discovered one of the long-sought mysteries of electronics: why these brittle materials inside batteries don't crack under the strain of shrinking and expanding.
What they found is that when the electrodes are in the charging or discharging process, their normal crystalline structure is transformed into a disordered, glass-like phase to withstand the changes to its dimensions. Researchers say this discovery could affect future battery design or lead to new kinds or actuators for batteries.
The team took a sodium-ion battery and found it was possible to fine-tune the volume of changes over a very wide range. This changed not only how much the material expands and contracts, but how it does so. For some compositions, the expansion is very slow and gradual, but for others it can happen rapidly.
"This is a mechanism that we think might apply more broadly to other compounds of this kind," says Yet-Ming Chiang, professor of materials science and engineering at MIT. The findings may represent "a new way to create glassy materials that may be useful for batteries."
If the changes to a glassy composition can be controlled, it may result in a battery that features a longer life or a higher capacity, Chiang says. It could also to lead to applications where the volume changes could be put to use, such as in robotic actuators or as pumps to deliver drugs in implantable devices.
The plan is to work toward determining a broader family of crystalline materials that share this phase-changing property, and to make the process easier to synthesize, MIT says.
The work is important since electrode materials often used in lithium-ion batteries, the common source of power for smartphones, appliances, computers and vehicles, often fail as a result of the strain of charging and discharging. If strain relief can be brought to these batteries, so that instead of fracturing the electrodes turn from a crystalline solid into an amorphous one, it could lead to scientists to revisit batteries previously deemed to be unusable because of the volume change during discharging and charging. The work could also give engineers a better model to design a new generation of batteries, researchers say.