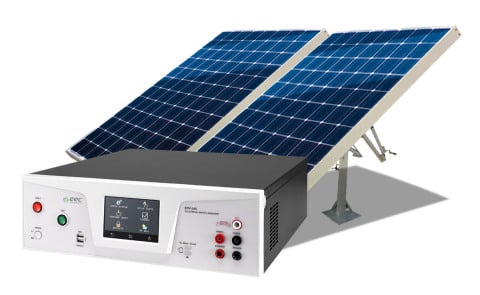 EEC EPV-500,The world's first 4-in-1 photovoltaic (PV) module safety analyzer (Image credit: Business Wire)Extech Electronic Co. has announced the worldwide release of the EPV-500 series, the first four-in-one photovoltaic (PV) module safety analyzer. The EPV-500 offers a one-step automatic testing solution to perform DC withstand, DC ground bond, insulation resistance and potential induced degradation (PID), all in a single unit. The analyzers are used for testing PV panels in laboratories and manufacturing environments.
The EPV-500 series can perform hipot tests needed to meet the required safety regulations for large voltage arrays. It is designed with maximum negative 2,000 Vdc output voltages, meeting PID testing regulation while ensuring user safety when the power terminal is electrically charged.
The EPV-500 series has multiple connection interfaces for expandability and compatibility with existing systems, allowing for remote operations management from a central computer.
One of the major contributing factors to manufacturing efficiency is user operating fluency. The EPV-500 series has a 4.3" color touch screen and an intuitive system interface that allows full user control. The system memory permits storage of up to 2,000 sets of testing conditions. The strict account management feature sets multiple levels of user authority for secure operations.
To learn more about this new system, visit the Extech Electronic Co. site.