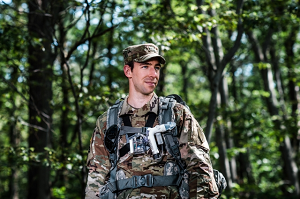 The COBRA sensor includes a chest harness and bite grip that enable hands-free use of the system during exercise and training. Image credit: MIT Lincoln Laboratory
A low-cost personal metabolic sensor is under development for use by the military as well as athletes. MIT Lincoln Laboratory is collaborating with the U.S. Army Research Institute for Environmental Medicine to design the Carbon dioxide/Oxygen Breath and Respiration Analyzer (COBRA), which enables individuals to make on-demand metabolic measurements simply by breathing into it.
The device uses indirect calorimetry (IC) to calculate individual energy expenditure and metabolic rates. This method measures the ratio of carbon dioxide to oxygen in exhaled breath, which can be used to measure the levels of carbohydrates and fats being used by the body to meet metabolic energy needs. Such energy expenditure rate data are valuable for setting reasonable physical standards within the military. By tracking energy expenditure in real-time, soldiers could detect and avoid the onset of low glucose levels associated with glycogen depletion as well as other metabolic complications, such as heat stress.
Relative to available mobile IC sensors, the COBRA sensor is smaller, simpler to use, and less costly to manufacture. MIT Lincoln Laboratory researchers hope to use such individual energy expenditure measurements to refine a personalized metabolic fuel model for individuals, track nutritional needs and assess the impact of training on the individual's metabolic efficiency and endurance.