Most attempts at monitoring diets involve tracking weight loss — primarily because it's much easier to measure weight lost than fat burned. But at CES 2016 earlier this month, a company named LEVL unveiled a prototype of a new device that's set to demystify the science of fat loss, giving consumers individualized metabolic information previously only available in a clinical setting. By measuring the amount of acetone in an individual's breath, the LEVL device can tell whether a user is in a fat-burning state and provide him or her with real-time information needed to modify diet and exercise.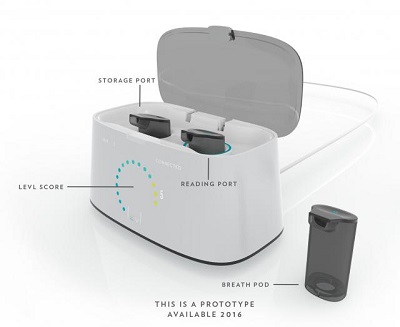 Rather than measuring weight lost, the LEVL desktop analyzer calculates fat burned based on a breath test. It detects acetone in a user's breath — a measure of a user's fat-burning state. Image source: LEVL According to LEVL, when the body is burning fat for energy, it is in a state called ketosis. During ketosis, the body generates molecules called ketone bodies, one of which is acetone. Because of its small size, acetone appears in our exhaled breath. Increases in breath acetone indicate increases in the amount of fat burned. That's where LEVL comes in.
A user simply blows into a small pod, then inserts the pod into the LEVL desktop breath measurement device. There, a nanosensor measures the acetone concentration in the user's breath. Based on this datum, the device calculates fat burned, providing an individual LEVL score. The LEVL score appears on the device, and LEVL can seamlessly and immediately connect this information to an app on the user's mobile device to provide real-time, predictive information. Users can compare their LEVL score with their diet and exercise choices and adjust their routine to maximize fat loss.
The LEVL device will be available for sale this year. Additional information is available at www.levlnow.com.