Significant upgrades to the display, application processor and supporting memory along with a range of motion, light and environmental sensors pushed up the bill of materials (BOM) for Samsung Electronics' new Galaxy S4 smartphone to $236, according to a virtual teardown by the IHS Mobile Handset Cost Model Service.
The BOM for the HSPA+ version of the S4 represents a 15 percent increase over Samsung's Galaxy S III, or $30.40, according to the IHS teardown analysis, indicating that the Korean electronics giant is betting that high-end smartphone users are willing to pony up for added bell and whistles as the company seeks to grab market share from arch-rival Apple's iPhone 5 and future iPhone versions.
The sensor upgrades, in particular, hint at Samsung's strategy of anticipating a range of emerging smartphone applications like indoor navigation and personal health.
The Galaxy S4's total price tag jumped to $244 from $213 for the Galaxy S III when accounting for the manufacturing cost of the HSPA+ version with 16 gigabytes of NAND flash memory, IHS found.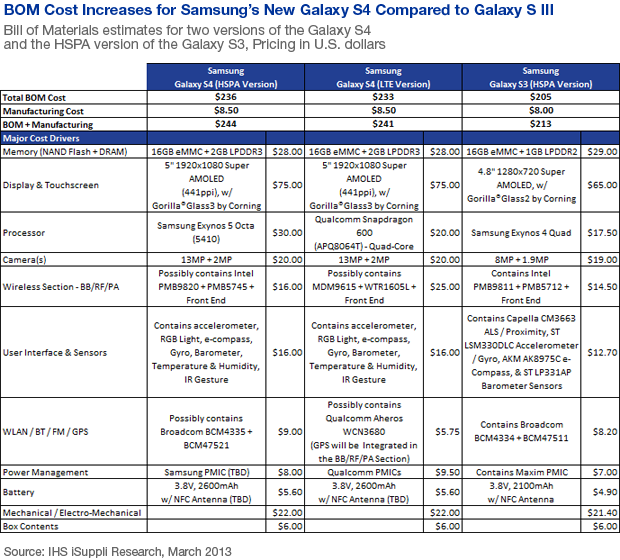 The splashiest upgrade is a full high-definition, active-matrix organic light-emitting diode (AMOLED) display. Use of AMOLED displays is a growing trend at the high end of the smartphone market. These and other component upgrades, including a souped-up Samsung processor, enhance the S4's functionality and account for the increase in materials cost, IHS said.
Despite the larger display and a suite of new sensors, however, the Galaxy S4 isn't noticeably wider than its predecessor. In fact, it is slightly thinner than the Galaxy S III. The new model measures 136.6 by 69.8 by 7.9 mm and weighs 130 grams, Samsung said when it unveiled its flagship smartphone in mid-March.
The new smartphone is expected to be available in the U.S. as early as the end of April. A list of the Galaxy S4 product specs can be found at the end of this article.
In-House AMOLED Display
The rush by market leaders like Samsung to incorporate AMOLED displays into their smartphones is also boosting overall shipments of the emerging panel technology. IHS estimates shipments of high-end displays will double by 2017 to an estimated 447.7 million units. That's good news for AMOLED makers like Samsung Display, whose products are expected to replace current LCD screens.
The Galaxy S4's premium display increases the AMOLED pixel format to full-HD, 1,920 by 1,080, compared to 1,280 by 720 WXGA resolution in the Galaxy S III, according to Vinita Jakhanwal, director for mobile & emerging displays and technologies at IHS.
Jakhanwal noted that comparable handsets typically use thin-film transistor LCDs displays. "Samsung was able to boost AMOLED display performance by implementing new technologies that also drove up the cost of the display," she said. Among the tweaks was using a phosphorescent green material in the RGB to boost OLED resolution without exacting a power penalty.
The full-HD display and touchscreen subsystem account for $75 of the BOM, IHS estimates.
Jakhanwal said Samsung Display should have enough OLED manufacturing capacity to meet demand for its flagship phone over the next year or so. As the smartphone market moves to higher-resolution displays, she noted that it was important for Samsung to show it can compete at the high end.
Samsung's upgrades such as the higher-resolution display "show the world that they are market leaders," Jakhanwal stressed.
According to IHS, Apple and Samsung combined control about half of the global smartphone market.
More Horsepower fromApps Processor
Samsung is thought to be using an eight-core Exynos 5 chip based on its own design as the apps processor for the high-end HSPA+ version of the Galaxy S4. The processor was manufactured using the Korean giant's own 28-nanometer process technology. The increased horsepower roughly doubles the cost to $30 for the apps processor compared to $17.50 for the Galaxy S III, IHS reported.
The eight-core Exynos processor leverages ARM's big-LITTLE microprocessor architecture, which integrates quad-core Cortex A-15 and A-7 CPUs. That approach is intended to deliver power savings by shifting less computing intensive tasks like phone calls to the slower but more power efficient Cortex A-7 processor.
"The A15 cores go into action only for more computing-intensive applications, like video gaming or decoding video," said Wayne Lam, senior analyst for wireless communications at IHS.
The Galaxy S4 comes with a 2,600 mAh battery. Recent reviews place the smartphone in the middle of the pack in terms of battery life.
An LTE version of the Galaxy S4 reduces cost by using Qualcomm's Snapdragon 600 quad-core apps processor along with an LTE radio chip. IHS analysts said a similar approach was used with the Galaxy S III. Using the Snapdragon 600 will likely mean differences in software capabilities and applications performance between the two models, although analysts said they await confirmation on this from Samsung.
Unlike smartphone competitors like HTC, Lam said Samsung tends to "create [its] own demand" for electronic components. Hence, he doesn't see the electronics giant having problems with its electronics suppliers.
Indeed, vertically integrated Samsung is in the enviable position of supplying 63 percent of the total BOM for the HSPA+ version of the Galaxy S4, or at least $149 worth of components, the virtual teardown found.
Sensors put Samsung ahead of Apple
The Galaxy S4 is loaded with a suite of motion, light and bio sensors that attempt to flesh out Samsung Electronics' strategy of making its latest smartphone "a life companion." Seeking to "bring your world together," Samsung integrated standard accelerometer, gyroscope and compass sensors into the new smartphone along with pressure and bio sensors.
Among the other new features integrated into the Galaxy S4 are IR gesture, humidity and temperature sensors.
Jeremie Bouchaud, IHS senior principal analyst for MEMS sensors and industrial electronics, said Samsung remains the only major OEM offering pressure sensors in all of its flagship models. He expects Apple to begin offering pressure sensors in its smartphones and tablets in 2014.
Pressure sensors are expected to be a key enabler for emerging indoor navigation apps. The ecosystem for indoor location and navigation remains 12 to 18 months away, however, and Bouchaud thinks Samsung is positioning itself to be ready with its flagship smartphone when that infrastructure is in place.
Geo-location in shopping malls and airports are among the early applications. "The challenge is not only to have fully developed software that is able to interpret all of this data from multiple sensor inputs, but to have various multi-level shopping malls, airports and museums mapped out in 'fused' positional and spatial detail with GPS, compass, Wi-Fi and altitude data from every store, exhibit" and airport, explained Paul Erickson, IHS senior analyst for consumer electronics and media technology.
Among the suppliers of S4 sensors are STMicroelectronics and Invensense for combo sensors, sometimes referred to as 6-axis IMUs.
Bouchaud also noted that the Galaxy S4 creates a new market for humidity sensors that are typically used in appliances like dryers and auto apps such as windshield defoggers. The S4 "alone will consume probably more than four times the size of the total market" for humidity sensors, he predicted.
Bouchaud suspects Samsung tapped a new sensor supplier from among a small group that has been developing humidity sensors for handsets over the least two years. His guess is that the supplier is Japan's ALPS.
Among the other design wins identified by IHS include Intel, which is believed to have again supplied the baseband processor and RF transceiver for the HSPA+ version. And Broadcom is the likely supplier of the wireless LAN/Bluetooth/FM/GPS components along with GPS/GLONAAS navigation components in the Galaxy S4 variant that does not use Qualcomm chips.
The emergence of environmental sensors in smartphones also raises industrial design issues, Bouchaud notes, since they create external interfaces on the handset. The result in the Galaxy S4 are four sensor inputs at the top of the handset that are "very noticeable" on the white version. Bouchaud declared them "really ugly."
Also new to the Galaxy S4 is an IR gesture sensor and eye-tracking capability to control screen functions. These new features pushed the estimated cost of materials for the S4 user interface and sensor subsystem to an estimated $16, up from $12.70 in the Galaxy S III.
While splashy eye-tracking features have garnered most of the attention from Galaxy S4 reviewers, IHS analysts said more established motion-based gesture features – shakes, taps and tilts – remain the basis for everyday tasks like scrolling or taking and ending calls.
Erickson predicts Samsung will seek to leverage gyro and accelerometer sensors as a way to separate itself from the smartphone pack. "I see Samsung distinctly pushing motion-based gestures as another avenue of marketable competitive advantage and differentiation against the iPhone," he said.
IHS said the preliminary results of its virtual teardown and pricing estimates are based on device specifications and other information released by Samsung, along with information about known components and suppliers. The IHS teardown team will perform a physical teardown analysis of the Galaxy S4 within 4 days of the release of the new phone.