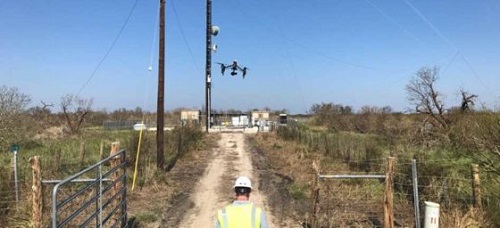 AT&T is using 25 drones to inspect cell towers in Texas after Hurricane Harvey. Source: AT&TDrones have been used for a variety of industrial applications, but now we are seeing some of the practical uses for the technology in humanitarian relief in the wake of the devastation in Texas due to Hurricane Harvey.
AT&T is using 25 drones in Southern Texas to inspect cell towers and determine network impact in areas that can't be reached due to flooding. The goal is to get a bird's eye view of these sites in order to identify areas that need repair so that cell sites can be returned to operating order to help people and emergency responders.
AT&T is also deploying two satellite cell on wheels (Sat COLTs) in Beaumont, Texas, in order to support customers and first responders following the hurricane. These systems use satellite transmission to connect terrestrial networks in areas where service has been lost.
Two insurance carriers—Allstate and State Farm—are using drones for aerial photography of damaged areas and homes in Texas and Louisiana. Allstate will run at least 1,000 flights in the upcoming weeks to assess damage, saving the workers the three hours it would take compared to what a drone can do in an hour. This also allows workers to not be put in harm's way during inspection.