Dogs are great at detecting explosives and other contraband because of the geometry of their noses and active sniffing, or the ability to suck in more air and more odors as they inhale.
In order to improve detection without the use of animals, a team of government and university researchers, led by the National Institute of Standards and Technology (NIST), have come up with an artificial dog nose that mimics a real dog's sense of smell. The technology has proven to be more than 10 times the performance of current technologies that rely on continuous suction to detect trace amounts of explosives.
The 3-D-printed artificial dog nose was attached to the front end of a commercially available explosives detector and enables active sniffing to improve odorant detection by up to 18 times, depending on the distance from the source.
"The dog is an active aerodynamic sampling system that literally reaches out and grabs odorants," says Matthew Staymates, a mechanical engineer and fluid dynamicist at NIST. "It uses fluid dynamics and entrainment to increase its aerodynamic reach to sample vapors at increasingly large distances. Applying this bio-inspired design principle could lead to significantly improved vapor samplers for detecting explosives, narcotics, pathogens—even cancer."
Traditional trace detection devices used in airports, seaports and other locations typically use passive sampling that involves swabbing hands or other surfaces and running them through a chemical detector. Other systems, such as wand-like vapor detectors, are more mobile but unless the detector scans immediately above it, the chemical signature of bomb-making ingredients will not get noticed, researchers say.
How They Did It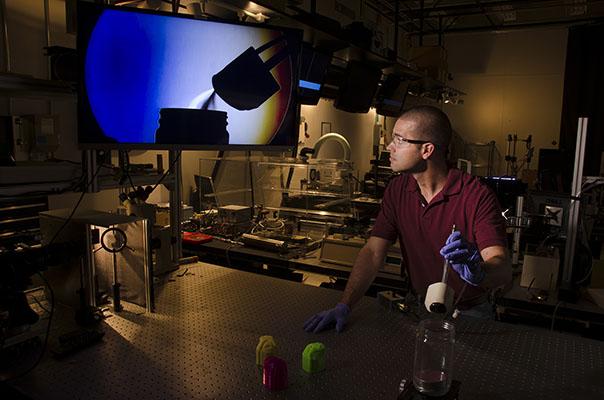 The 3-D-printed artificial nose is capable of detecting explosive vapors and other contraband better than current systems by as much as 10 times. Source: NIST Using 3-D printing, researchers replicated the external features of a female Labrador retriever's nose, including the shape, direction and spacing of the nostrils. Moving air through the artificial nose at the same rate as a dog inhales and exhales allows the team to mimic the air sampling (or sniffing) of dogs.
Then NIST used Schlieren imaging, a technique used in aeronautical engineering, to view the flow of air around objects, and high-speed video to confirm the artificial nose could sniff like the real thing. In each "sniff," air jets exit from both nostrils moving downward and outward. The air jets draw in vapor-laden air toward the nostrils, and during this inhalation that drawn-in air is pulled into each nostril.
The team compared the artificial nose with that of traditional detection systems and found the dog sniffing system efficiency was four times better at 10 centimeters away from the vapor source, and 18 times better at a stand-off distance of 20 centimeters. Then the researchers outfit a commercially available vapor detector with a bio-inspired 3-D-printed inlet that would allow it to sniff like a dog rather than inhale only in 10-second intervals. The switch resulted in an improvement in odorant detection by a factor of 16 at a stand-off distance of four centimeters.