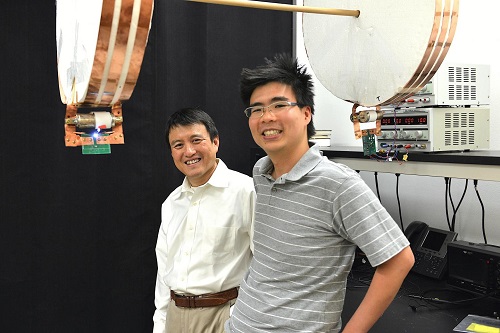 Professor Shanhui Fan (left) and graduate student Sid Assawaworrarit have developed a device that can wirelessly charge a moving object at close range. (Source: Stanford University)Despite the fact that electric vehicles (EVs) only represent 0.2 percent of the overall car population in the world, more EVs are on their way and could represent the future of the automotive industry.
However, one issue remains: How far these electric cars can travel on a single charge.
One theory to eliminate range anxiety and give a boost to the EV platform is the idea of wirelessly recharging vehicles while they are in motion. Such a novel idea could perhaps make electricity the standard fuel for all vehicles.
Researchers at Stanford University have developed a method that can do just this by leveraging previous work for transmitting electricity wirelessly over a distance of a few feet to a stationary object. The study used a 1-milliwatt charge to transmit electricity to a moving LED light bulb over a short distance. Now the team is working on greatly increasing the amount of electricity that can be transferred and tweaking the system to extend the transfer distance and improve efficiency.
In addition to just advancing how EVs recharge, the technology could be used for personal devices such as smartphones or to untether robotics in manufacturing.
"We still need to significantly increase the amount of electricity being transferred to charge electric cars, but we may not need to push the distance too much more," says Shanhui Fan, a professor of electrical engineering at Stanford.
Tesla Motors says its Model 3 will have a 200-mile single charge distance, while the Chevy Bolt has an advertised range of 238 miles. But these cars take several hours to fully recharge. Researchers say a charge-as-you-drive system would overcome these limitations.
"In theory, one could drive for an unlimited amount of time without having to stop to recharge," Fan says. "The hope is that you'll be able to charge your electric car while you're driving down the highway. A coil in the bottom of the vehicle could receive electricity from a series of coils connected to an electric current embedded in the road."
Wireless technology could also assist GPS navigation in autonomous vehicles by relaying information to other cars about positioning via GPS satellites.
How They Did It
Mid-range wireless power transfers is based on magnetic resonance coupling whereas a magnetic field causes electrons in a nearby coil of wires to oscillate, transferring power wirelessly. The transfer efficiency is enhanced if the coils are tuned to the same magnetic resonance frequency and are positioned at the correct angle.
But this flow of electricity can only be maintain if some aspects of the circuits, such as frequency, are manually tuned as the objects move. Either the energy transmitting coil or the receiver coil must remain nearly stationary, or the device must be tuned automatically and continuously.
Stanford researchers addressed this problem by eliminating the radio-frequency source in the transmitter and replacing it with a voltage amplifier and feedback resistor. The system automatically figures out the right frequency for different distances without the need of human interference.
While the efficiency of the amplifier is low at about 10 percent because they used an off-the-shelf, general-purpose device, researchers believe custom-made amplifiers can improve the efficiency to more than 90 percent.
"We can rethink how to deliver electricity not only to our cars, but to smaller devices on or in our bodies," Fan says. "For anything that could benefit from dynamic, wireless charging, this is potentially very important."
The full research study can be found in the journal Nature.