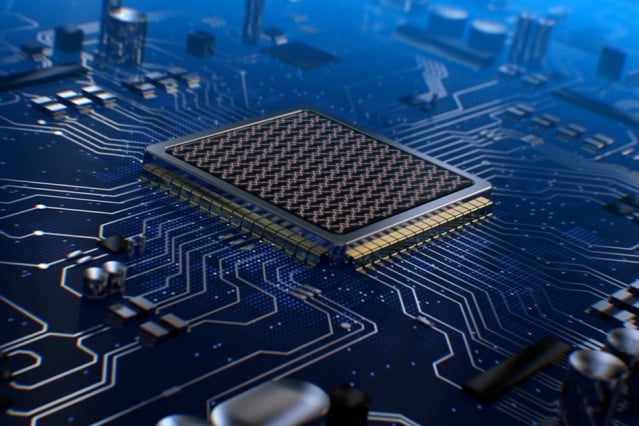 Artist's concept: Programmable nanophotonic processors integrated on a printed circuit board, carrying out deep learning computing. (Source: RedCube Inc., courtesy of research team)It's a hot topic in computer science: deep learning. Computer systems based on artificial neural networks mimic the way the brain learns, accumulating by example.
It's currently used for face- and voice-recognition software. The potential exists to use it for searching through vast amounts of medical data to find patterns useful to diagnosis, or scan chemical formulas to help develop new pharmaceuticals. But the computations required are highly complex and demanding.
Enter a team of researchers from MIT and elsewhere, who have developed a new approach to deep learning computations that they say could vastly improve speed and efficiency. As published in the journal Nature Photonics, the approach uses light instead of electricity.
Of course, the potential for "photonic computers" has been dreamt about for some time now, with researchers making dramatic claims that ultimately backfired. Yet, the light-based neural-network system developed by the researchers may be practical for some applications of deep learning.
"This chip, once you tune it, can carry out matrix multiplication with, in principle, zero energy, almost instantly," says Prof. Marin Soljačić, one of the paper's authors.
Soljačić uses the analogy of an eyeglass lens to describe the approach: when light waves pass through a lens, a complex calculation (the "Fourier transform") takes place. The same principle applies to light beams carrying out computations in photonic chips. Multiple beams are directed to allow their waves to interact with one another, producing interference patterns that convey the intended operation's result. The researchers created a device based on this principle, which they call a programmable nanophotonic processor.
"We've demonstrated the crucial building blocks but not yet the full system," adds Soljačić. The team's full proposal calls for interleaved layers of devices that apply an operation called a nonlinear activation function, analogous to the operation of neurons in the brain.
Additional applications include signal processing for data transmitting; since light is an inherently analog medium, the processor could manage high-speed analog signal processes faster than approaches that first convert the signal to digital form. "This approach could do processing directly in the analog domain," says Prof. Dirk Englund, another of the paper's authors.
A lot more effort and time are needed to make this system useful, according to the team. But once it's scaled up and fully functioning, it can find many user cases for applications that need to do a lot of computation with limited power or time. That could include data centers, security systems, self-driving cars and drones.