High-density and modular test instruments for wireless devices and aerospace systems have become increasingly complex, with a larger number of ports that can accept up to 32 test assemblies or more. They're also subjected to constant flexing during calibration and testing DUTs (device under test) that can compromise phase and amplitude stability, resulting in inaccurate measurements. As such, test assemblies need to be smaller, lighter weight and more flexible, for easy routing in less space when connecting them to vector network analyzers (VNAs), like ENA and PXIe. They also need to deliver highly accurate measurements for faster throughput, less calibration and downtime and reduced overall costs.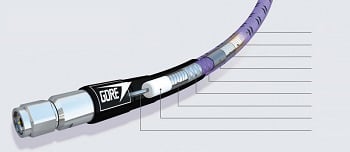 GORE® PHASEFLEX® Microwave/Radio Frequency (RF) Test Assemblies, Type 0N were developed by W. L. Gore & Associates, Inc. (Landenberg, PA) to meet these requirements. These are reportedly the smallest, lightest, most internally ruggedized assemblies on the market for modular, multi-port and multi-site test applications, ensuring consistent, repeatable measurements with stable electrical performance up to 50 gigahertz.
The small package and light weight of Type 0N not only makes initial routing much easier in cramped spaces, but also reduces the stress on test ports and DUTs as cables are connected to test instrument ports and fixtures. This high-density test assembly also withstands continuous movement and flexing while delivering enhanced phase and amplitude stability.
Connecting the new GORE PHASEFLEX Microwave/RF Test Assemblies, Type 0N to a test application eases calibration and troubleshooting, improves test results, speeds throughput, increases service life, and reduces overall costs. This new assembly solution offers stable electrical performance and durable mechanical protection over time in a compact, cost-effective package.
The assemblies are recommended for applications such as:
5G test and interconnection
Component/device R&D and production test
High-speed digital test devices/assemblies
Modular test instruments such as PXIe and AXIe
RF switches