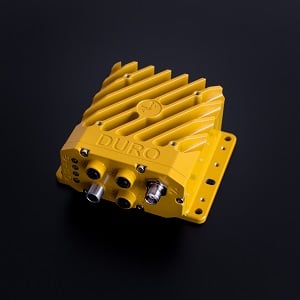 The Duro RTK GNSS receiver. Image credit: Swift Navigation
Swift Navigation and Carnegie Robotics LLC have introduced a multi dual-frequency real-time kinematics (RTK) global navigation satellite system (GNSS) receiver built to withstand rugged environments and long-term outdoor deployments.
The Duro, the first joint product between the companies, combines a rugged enclosure with centimeter-accurate positioning. The GNSS sensor is protected against weather, moisture, vibration, dust, water immersion and extended periods of being left outside. The Duro is ready to connect out of the box and can be used for robotics, precision agriculture, mapping, military, outdoor industrial and maritime applications.
The receiver includes military-grade hardware, an IP67 rating, weatherproof external enclosure design with M12 standard-sealed connectors, on-board microelectromechanical systems (MEMS) IMU and magnetometer, protected I/O, including RS232 serial ports and 100mbit Ethernet and durable UV and chemical-resistant powder-coating.
The RTK technology provides location solutions that are 100 times more accurate than traditional GPS at a fraction of the cost, Swift says.
The Duro is the first of several jointly-developed products for autonomous vehicles, outdoor robotics and machine control from Swift and Carnegie Robotics.