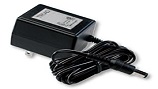 The new WAU Series Wall Plug-In 120V/60Hz AC Power Supply is rated at 12VA and is available in six different AC output ratings.
With its green-friendly power design, the WAU series wall plug-in AC power supply may be the industry's first AC external power supply (EPS) to meet the Level VI energy efficiency requirements of the U.S. Department of Energy and the California Energy Commission (CEC), while offering superior performance, long life and value.
Triad prepackaged wall plug-in power supplies decrease product design time. These plug-in power sources eliminate the need for internal power supply cooling devices, thereby reducing the noise level, size and weight of the end product. In addition, these compact power sources keep heat away from sensitive circuits, and supply a safer lower output to the end product. Wall plug-in power sources are completely enclosed to prevent tampering. And since they carry many required agency listings, their use aids in gaining agency approvals. Offered in a wide range of popular voltages, the plug-in power sources are available in AC/AC unregulated models with generous six foot cord lengths. Available in 60 Hz only.