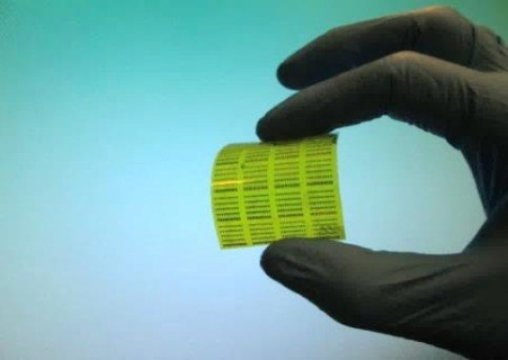 Memory test devices on a polyimide foil. Image credit: Huber et al.
Memory devices are becoming more flexible and their production is becoming easier every year. Their production has generally been secondary in their development, but a team of researchers at Munich University of Applied Sciences in Germany and INRS-EMT in Canada are planning on changing that.
Additive manufacturing and 3-D printing have eliminated the complex parts of creating memory devices. They have allowed for a more streamlined process, getting rid of complex lithography and material removal steps. These steps are not critical in the production of memory devices.
The researchers use resistive memory (ReRAM) to start the process of mass-producing printable devices. "In any kind of memory, the basic memory unit must be switchable between two states that represent one bit, or '0' or '1.' for ReRAM devices, these two states are defined by the resistance of the memory cell. The process is identical to that of an office inkjet printer," explained Bernhard Huber, a doctoral student at INRS-EMT and working in the Laboratory for Microsystems Technology at Munich University of Applied Sciences.
The researchers have been successful in showing that a complete additive process is possible in an everyday environment. Low-cost flexible electronics would be available through this printing process. Print on demand holds huge potential for production of small electronics in a small scale environment.
"Just imagine supermarkets printing their own smart tags or public transport providers customizing multifunctional tickets on demand.'Wearables' that explicitly require flexible electronics may also benefit," Schindler said.
The research was published in the Applied Physics Letters.