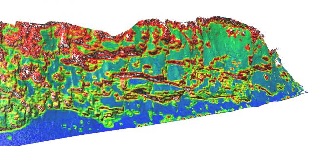 LiDAR image of cliff. Image credit: Matt O'Banion, courtesy of Oregon State University
A new application of LiDAR technology provides an automated method for analyzing rockfall potential from cliffs and producing risk assessments for roadways faster. The technology directly addresses a major concern for transportation planners worldwide.
Researchers from the University of Washington, Oregon State University and the University of Alaska, Fairbanks, teamed up to improve the existing 25-year-old evaluation system. Previously, rockface instability estimation required risky, time- and labor-intensive evaluation of small portions of a cliff face, sometimes including rappelling down face.
The new system, dubbed the "Rockfall Activity Index (RAI)" uses information obtained from LiDAR readings to produce a yearly "energy release" estimate for a given rock face. RAI compilation involves two steps. First, a rock slope is scanned with LiDAR, producing a high-resolution image. Morphological indices—local slope and roughness—are used to classify mass wasting processes underway in the slope. The classifications, combined with estimated instability rates, are used to map rockfall activity across the slope.
Results from system testing in southern Alaska confirmed that system predictions closely matched actual experience. Although the system is ready to use today; the research team continues to develop its potential.
The RAI addresses a multi-million dollar global problem. "Transportation agencies and infrastructure providers are increasingly seeking ways to improve the reliability and safety of their systems, while at the same time reducing costs," said Joe Wartman, associate professor of civil and environmental engineering at the University of Washington. "As a low-cost, high-resolution landslide hazard assessment system, our rockfall activity index methodology makes a significant step toward improving both protection and efficiency."