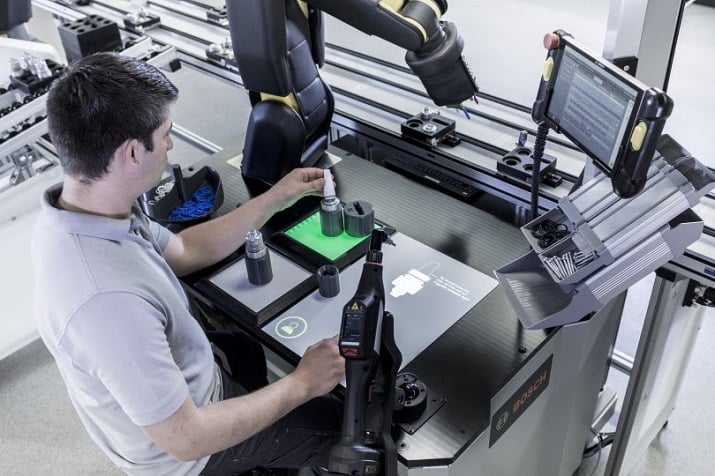 A worker uses Bosch's concept workstation for industrial automation that contains a robot assistant. Image credit: Bosch
Bosch is presenting a Workplace 4.0 concept that involves an environment where industrial workspaces are fully connected and where people and machines work hand-in-hand to make their jobs easier.
Part of the concept is a workstation that adapts to the worker: The surface positions itself at the right height, workers receive tasks as a projection and an assistant robot collaborates with people without any physical contact.
Bosch has developed a robot assistant, dubbed APAS, which with the help of a learning image-processing function automatically detects when the surface of a production part does not correspond to its specifications, for example. The worker teaches the machine just once how much deviation to tolerate before the part needs to be scrapped. Artificial intelligence allows the machine to apply what it has learned to do future quality checks independently saving the worker from having to do monotonous tasks while ensuring quality is achieved.
"Digital connectivity and production assistants will make day-to-day work in the industrial sector safer, easier and more productive," says Dr. Stefan Hartung, a member of the board of management at Robert Bosch GmbH.
Connectivity will help industrial vendors to quickly respond to new requirements in the market such as Bosch being able to manufacture 200 different hydraulic modules from more than 2,000 different components. These components are automatically ordered and the production line's nine stations are connected by a smart network. With an RFID chip attached to the workpiece, the stations know how the finished product has to be assembled and what steps are necessary. This is all thanks to connectivity.
"Many tasks that used to cost workers time unnecessarily can now be handled quickly and simply, thanks to digital connectivity," says Dr. Stefan Aßmann, head of Connected Industry at Bosch. "In the manufacturing sector, Industry 4.0 makes an enormous difference in easing the burden of day-to-day work."
Using the results of the concepts and those tailored for different customers, Bosch hopes to generate extra sales of more than one billion euros and to save another billion by the year 2020.
Bosch will be detailing its robot-centric Workplace 4.0 concept at next week's Hannover Messe industrial automation trade show in Germany.