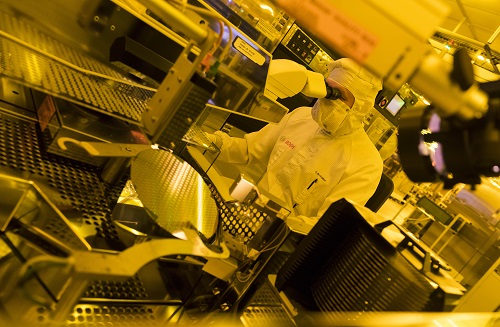 A Bosch current fab. Bosch will spend $1.1 billion on a new facility in Dresden. Source: BoschRobert Bosch GmbH says it will build a new 12-inch wafer fabrication facility to meet the demand being generated for Internet of Things (IoT) devices and mobility applications.
The fab, which will be located in Dresden, Germany, will involve an investment by Bosch of about $1.1 million with construction slated to be completed by the end of 2019, followed by a roll out phase and then manufacturing operations that will likely start at the end of 2021.
"The new wafer fab is the biggest single investment in Bosch's more than 130-year history," said Dr. Volkmar Denner, chairman of the board at Bosch. "With connectivity and automation growing, they are being used in more and more areas of application. By extending our semiconductor manufacturing capacity, we are giving ourselves a sound basis for the future and strengthening our competitiveness."
Bosch cites a recent PricewaterhouseCoopers study that forecasts global semiconductor growth of more than 5 percent annually through 2019 with much of this growth coming from the IoT and mobility markets.
Bosch says the new Dresden fab will create as many as 700 new jobs.