San Jose, CA-based Velodyne LiDAR Inc. offers a new fixed-laser, solid-state Velarray™ LiDAR (Light Detection and Ranging) sensor as a cost-effective, high-performance automotive product in a small form factor. The sensor can be seamlessly embedded in both autonomous vehicles and advanced driver-assist safety (ADAS) systems.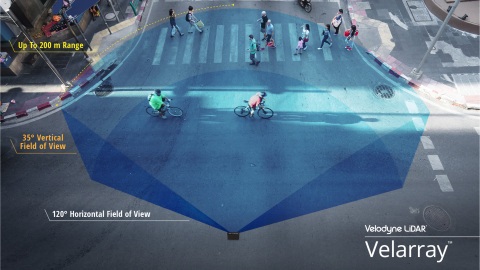 Velodyne LiDARs Velarray field of view measurement. Source: Business Wire)
The Velarray LiDAR sensor is equipped with the company's proprietary ASICs (application specific integrated circuits) to achieve superior performance metrics. The small package size of 125-by-50-by-55 millimeters can be embedded into the front, sides, and corners of vehicles to provide up to a 120-degree horizontal and 35-degree vertical field-of-view, with a 200-meter range even for low-reflectivity objects. An automotive integrity safety level rating of ASIL B means the Velarray should ensure safe operation in L4 and L5 autonomous vehicles, and also in ADAS-enabled cars.
The company has scheduled customer demonstrations of the core technology for the summer of 2017, with engineering sample units available by the end of 2017, ahead of production in 2018.