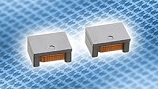 TDK Corporation has unveiled the ADL3225V choke for automotive power over coax (PoC) applications. The wire wound inductor, which has a DC resistance of 0.9 Ω, features high impedance over a broad frequency spectrum of 1 MHz up to 1 GHz.
The growing number of sensors and cameras in cars is driving the need to speed up the communications between the many ECUs (electric control units). Advanced communication protocols such as automotive Ethernet with a data rate of up to 100 Mbit/s and low-voltage differential signaling (LVDS) with a transmission rate of up to 1.5 Gbit/s are both being used for the image signals from on-board camera to the main circuit board. PoC, in which both the data and power are transmitted simultaneously over the same coaxial cable, serves to reduce the weight of wire harnesses and improve fuel consumption.
The new choke offers good DC superimposition characteristics, thus separating the power from the signal path, for example, for the signals of sensors and cameras that are connected via automotive Ethernet. The rated inductance of the choke is 47 µH and their rated current (Isat) is 300 mA.
The ADL3225V choke, which is qualified to AEC-Q200, has compact dimensions of 3.2 mm x 2.5 mm x 2.4 mm.