A molecular toggle switch developed at Karlsruhe Institute of Technology will help lead the way to smaller electronic components. The switch stays open until it is switched closed, and it can be flipped as often as needed.
The nanometer-size electromechanical switch consists of a few carbon atoms, compared to the smallest structures used in semiconductors, which are 10 nanometers in dimension. Three sulfur atoms form the feet that are fixed to a smooth gold surface. The toggle lever ends in a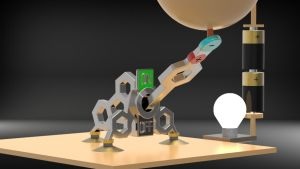 Molecular Switch (artist's illustration). Credit: KITnitrile group, with a nitrogen atom. The switch flips when voltage is applied. The resulting electric field exerts a force on the charge of the nitrogen atom, making contact with a second electrode (here, the gold tip of a scanning tunneling microscope) is established.
The tiny switch's reliability and predictability represent great progress from previous attempts. This design's success marks the first time researchers have succeeded in opening and closing such a contact between a molecule and a gold tip electrically and mechanically, as often as desired, without causing plastic deformation.
According to Lukas Gerhard of KIT's Institute of Nanotechnology, the interconnection method developed at KIT can achieve connection without damaging the components, a significant technological advance. This technology opens up the use of a vast trove of molecular building blocks.
"By replacing conventional silicon-based components, e.g. a switch, by individual molecules, future electronic circuits might be integrated on a space smaller by a factor of 100," Gerhard says.